• March 10th, 2021 •
Copyright ©  Devon Shanor Photography | All rights reserved
Portraits are supposed to be fun! Posing and staging is only half of it! Personally, Candids are my favorite! One of my favorite things about Devon is her ability to make any session fun. It doesn't matter if it's a tantrum, nervous mom getting her first boudoir shoot since kiddos, a Dad that "really hates getting his picture taken" or that senior that is only doing portraits to appease Mom and Dad… It's a fun experience here at DSP!
Here are some of our favorite candids that we absolutely love!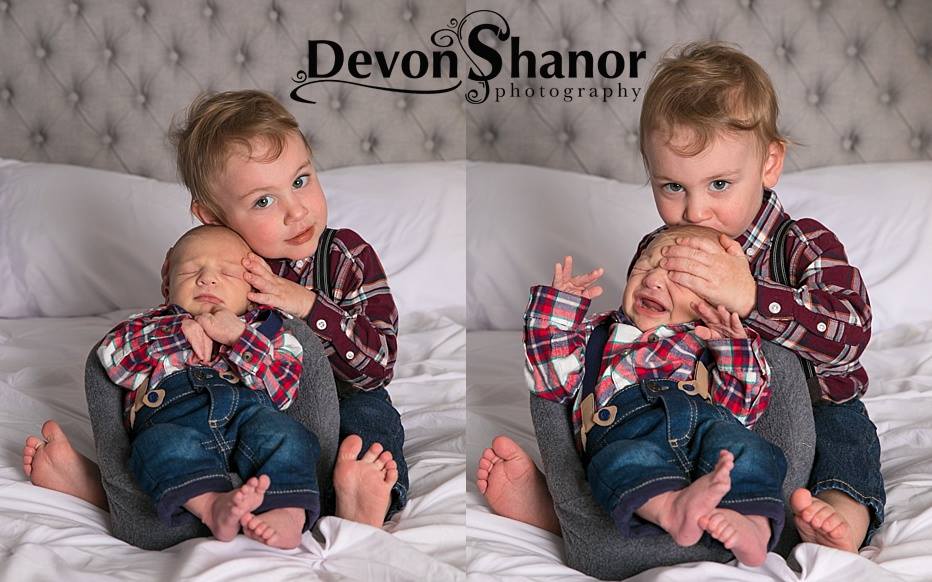 "I love my baby brother!!!!… Sooooooooo much!"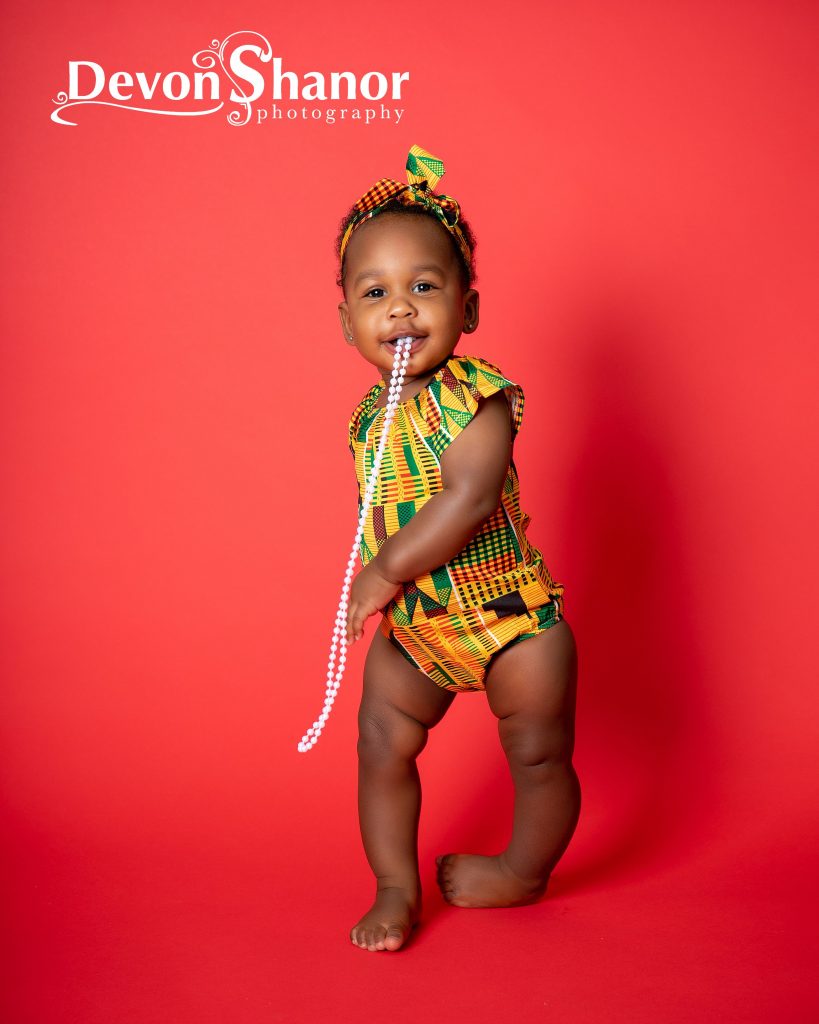 "Don't mind me… just struttin' my stuff with the newest fad… Wear necklaces around our teeth!"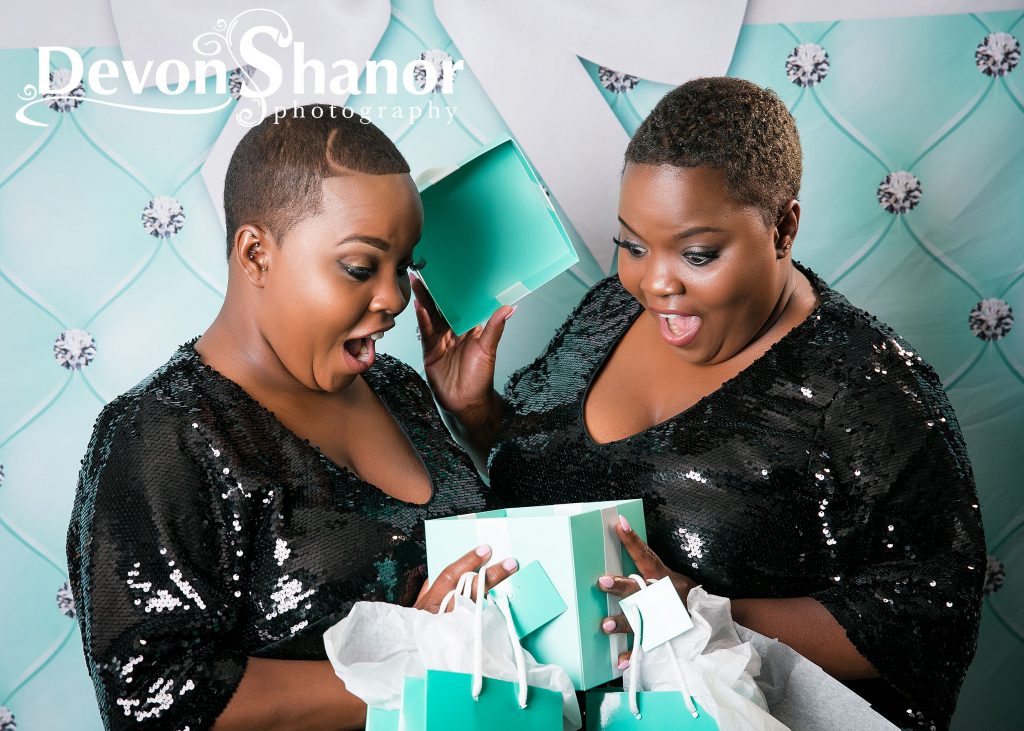 HAPPY BIRTHDAY TO THE BEAUTIFUL MATTHEWS SISTERS!!!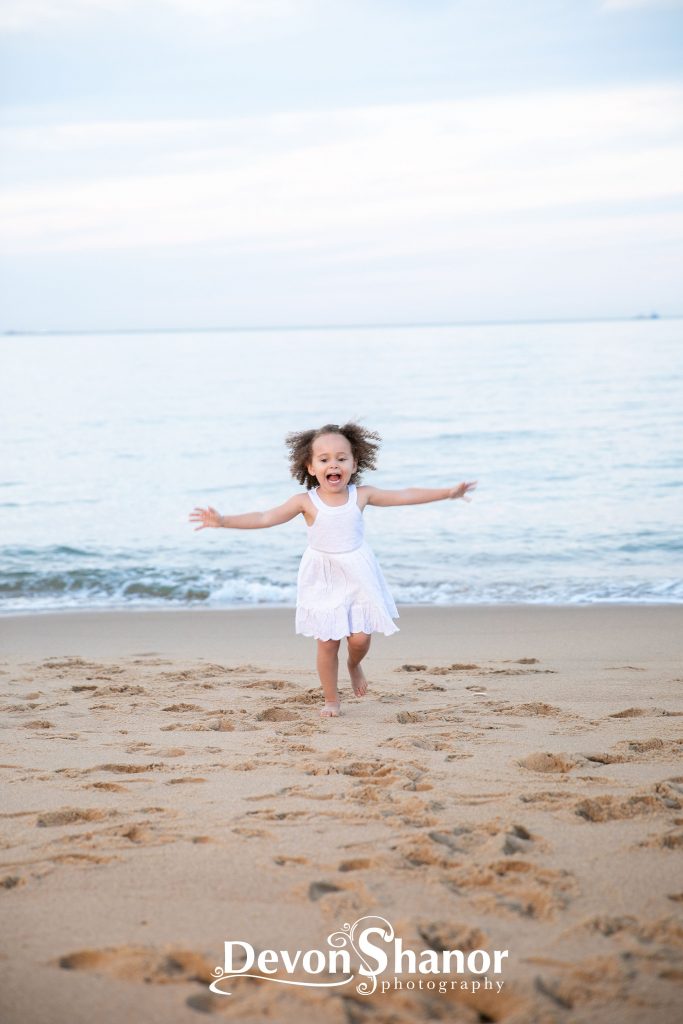 "Nothing like a cold ocean touching your toes to make you run like the wind!"
Keep checking back for more candids on the blog!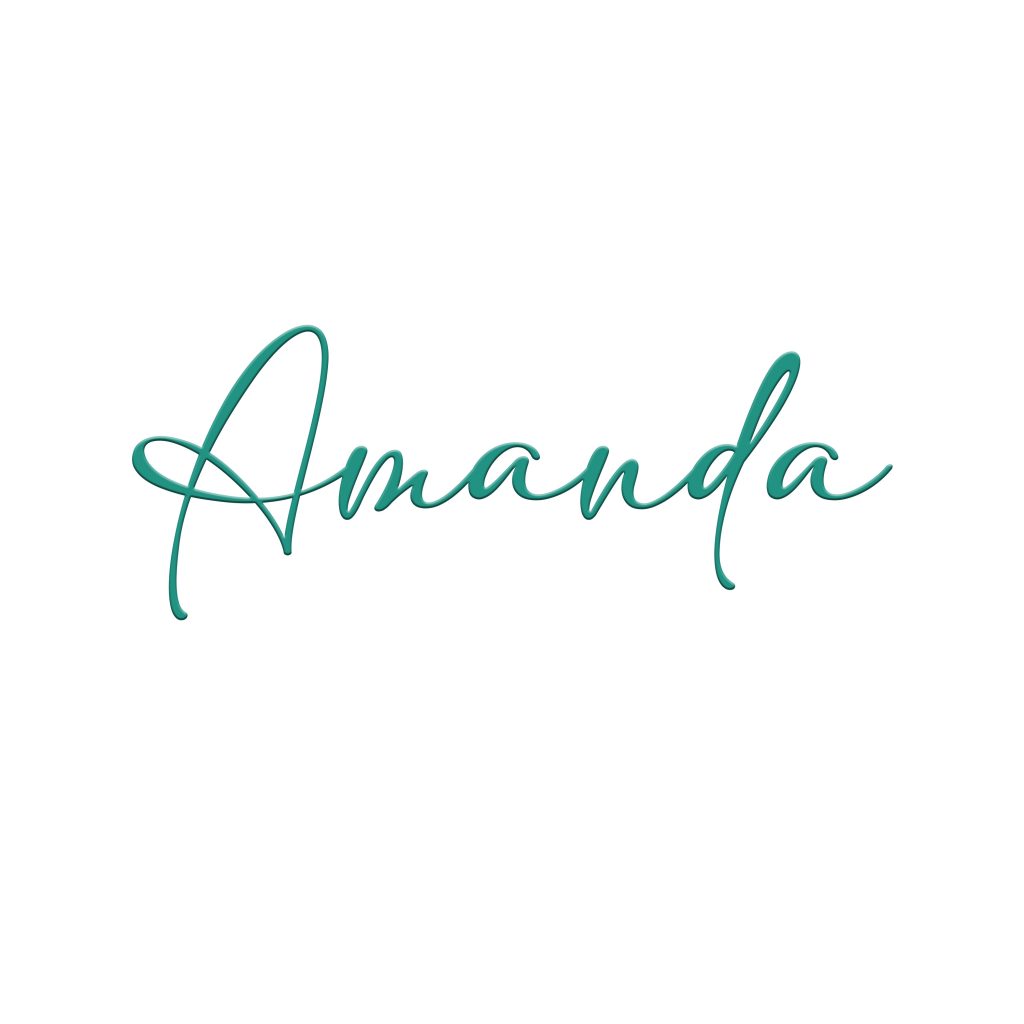 • March 1st, 2021 •
Copyright ©  Devon Shanor Photography | All rights reserved
We are so honored to be a part of our clients life changing moments! Graduating from High school, moving into a new home, having babies, celebrating anniversaries and life milestones, etc. Often when you have a life changing moment, your friends and family would like to bless you with gifts.
So… we decided to start offering a GIFT REGISTRY! Similar to how you register at Target or Bed Bath and Beyond, you can give your family and friends a link to purchase products or gift certificates from Devon Shanor Photography to be used when you purchase your images.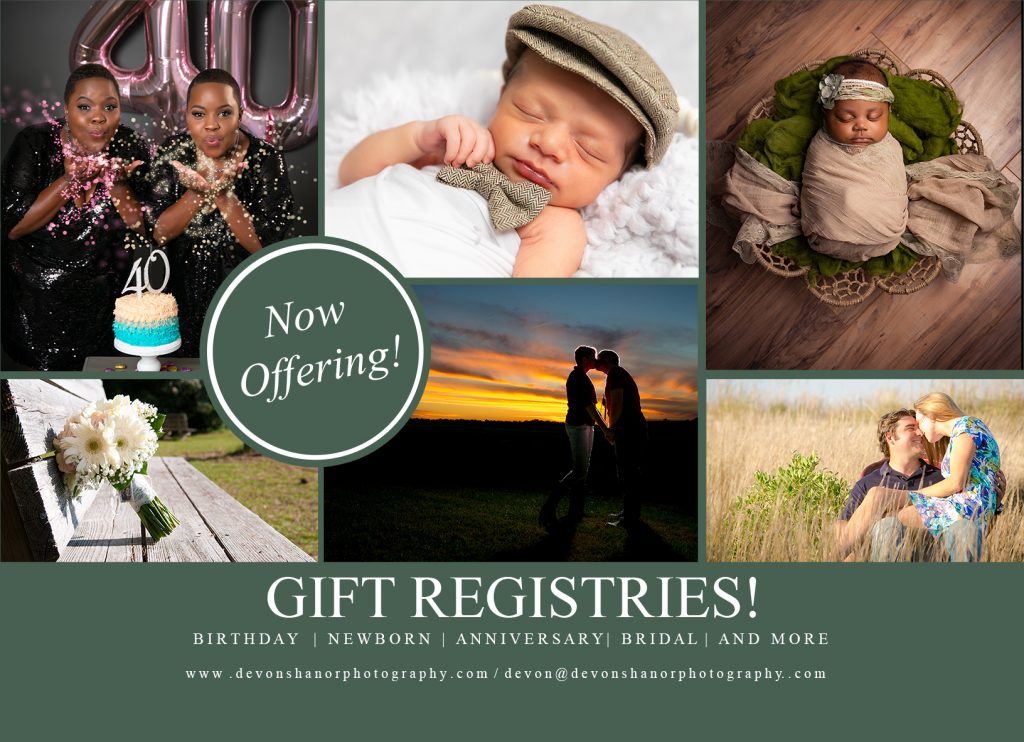 We are so excited to be offering this. Over the years so many clients have asked me if I would offer something like this so and we have finally found a way to do so!
So, for the next big milestone you are celebrating, don't forget to ask about our gift registry and how you can take advantage!!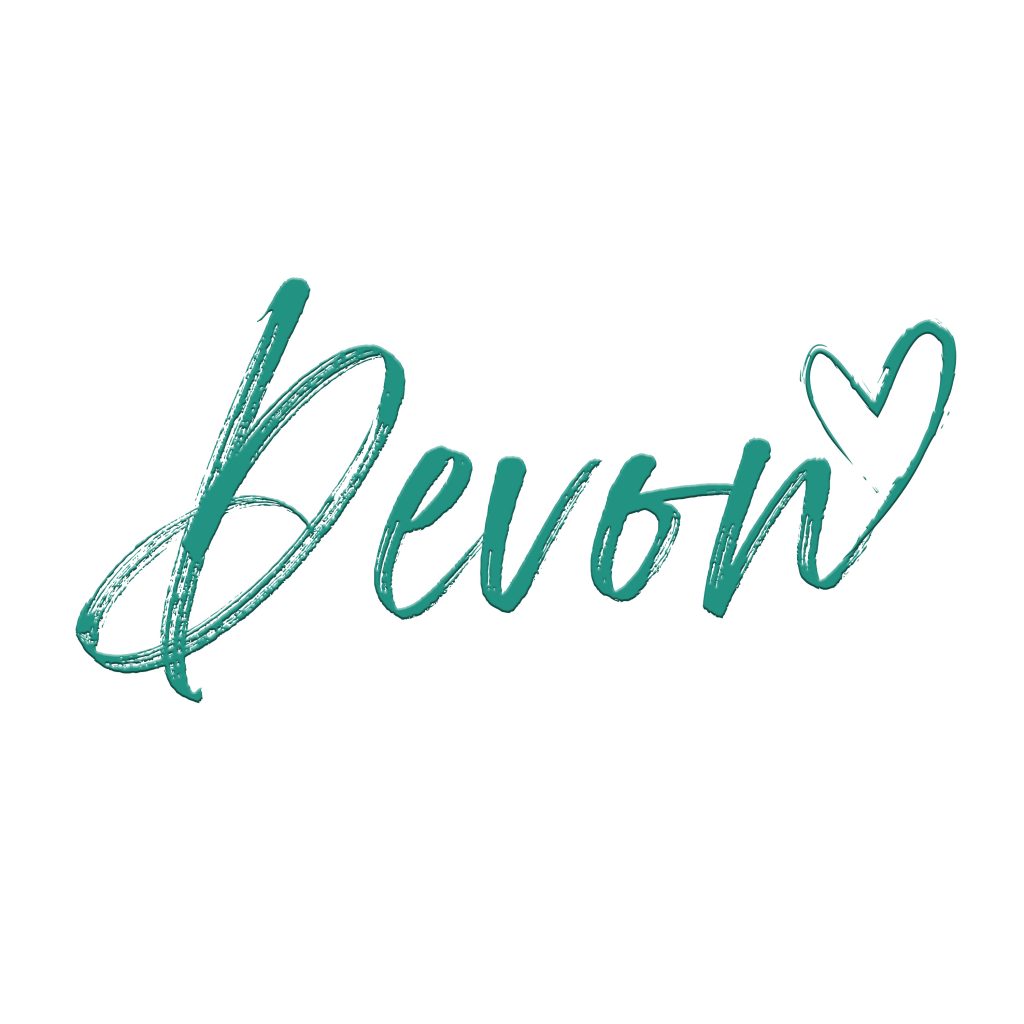 • February 23rd, 2021 •
Copyright ©  Devon Shanor Photography | All rights reserved
Anybody who has talked to me about working with Devon has heard me say "I don't work with Devon just because she pays me…" and that statement is more than true…
I started as a client, I wanted to do newborn portraits for my son Bradley and I tried to do them myself… I procrastinated and finally said I need a professional to do this! Devon was sweet and understanding and we did a "newborn" style shoot when Bradley was three months old. I was so happy to have newborn portraits, even if he wasn't really still a newborn. She was so patient with me as a new mom, especially one that was suffering from Post Partum Anxiety and didn't know it at the time.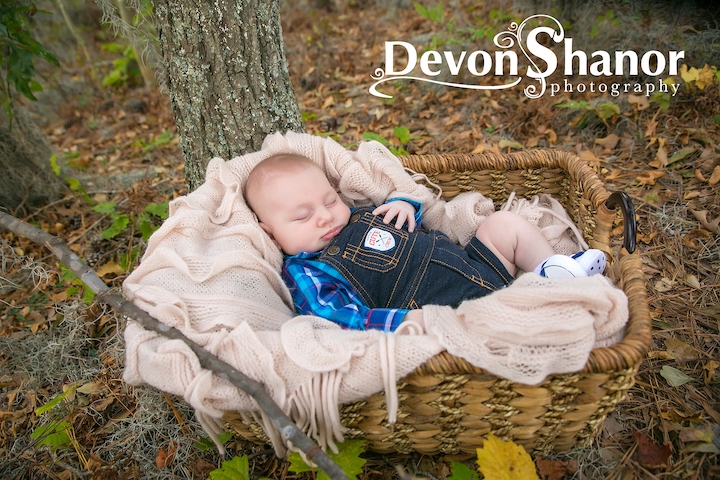 We loved them and the experience, this woman even got my husband to enjoy getting his photo taken. I even got him to agree to do family photos once a year! So the following year, we did Bradley's one year portraits…. this was so much fun! Devon had just gotten back from her latest trip to Ethiopia with Habesha Mama so we got talking about what she does there for kids in need. It was such an incredible story that just made me love her as a person even more. (keep an eye out for a post about Habesha Mama if you'd like to hear about it!) We talked and laughed and bonded.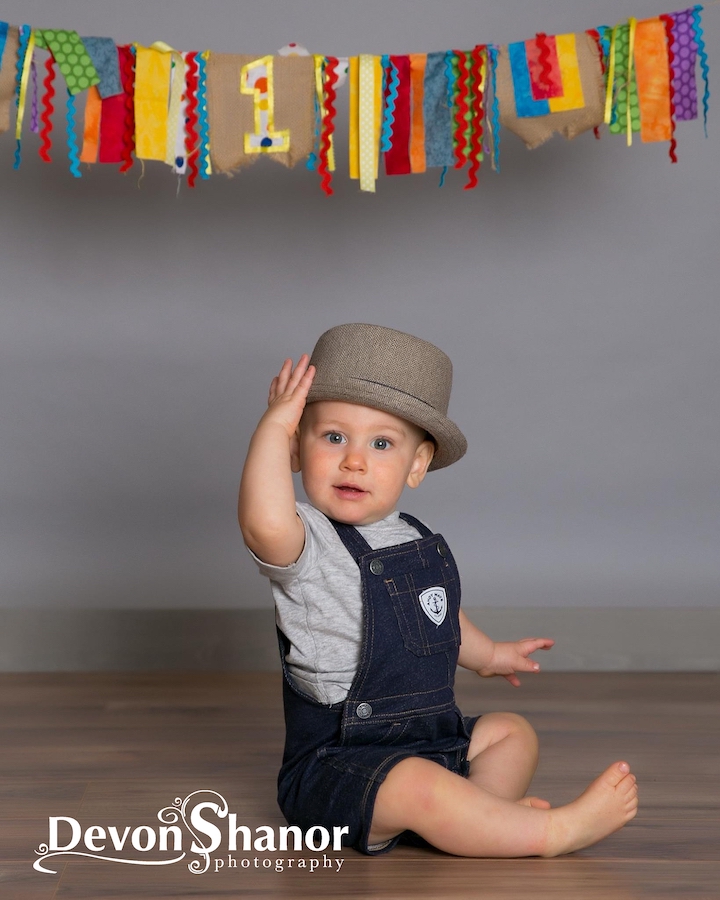 The following year, Andrew was born. Needless to say I didn't hesitate to get newborn portraits right away! Andrew was 13 days old when we got his newborn photos and I will treasure them forever! This time Devon learned more about me, she found out I was a real estate photographer, and had some significant experience with graphic design.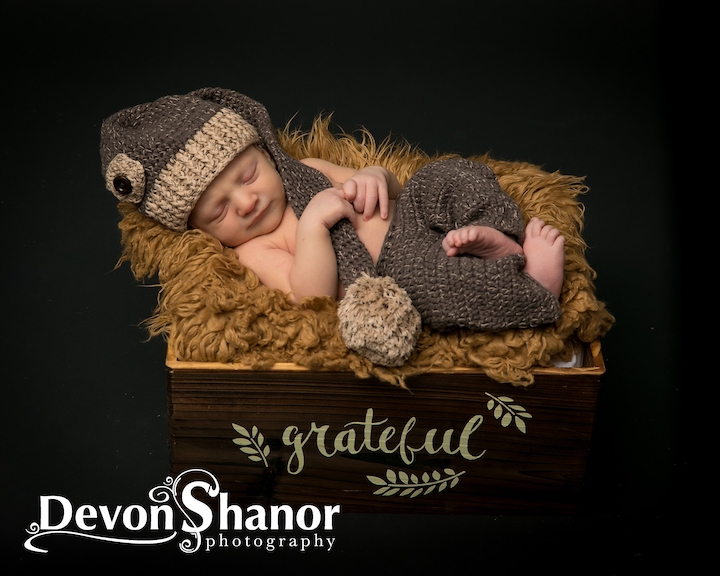 The following year… (yes, I got my husband to do pictures FOUR years in a row with Devon!) for Andrew's one year portraits we were already family. My kids looked forward to seeing her, and my husband was not nervous about pictures and as a result, I wasn't stressed out about getting ready for pictures.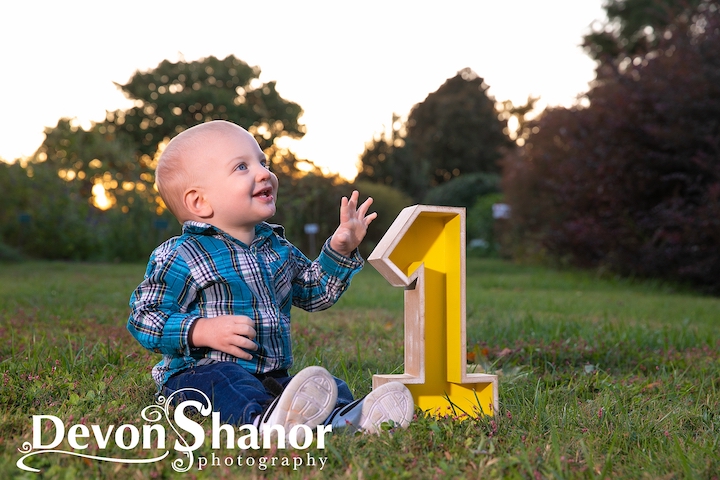 After his cake smash, during our inevitable hour chat, Devon told me that busy season was coming and what was on the horizon for her and Devon Shanor Photography. I told her that if she ever needed a hand I would be happy to help out! A few months later, she took me up on it! It started as a small edit here, to collages, and evolved into so much more.
Here we are in the fifth year, I'm integrated into Devon Shanor Photography more than I ever expected to but I LOVE IT. A little bit of graphic design, little bit of office management, little bit confidant, little bit organizer, and so much more. Jack of all trades is an understatement when it comes to what I do for Devon Shanor Photography…. But let me tell you, Devon SAW that in me.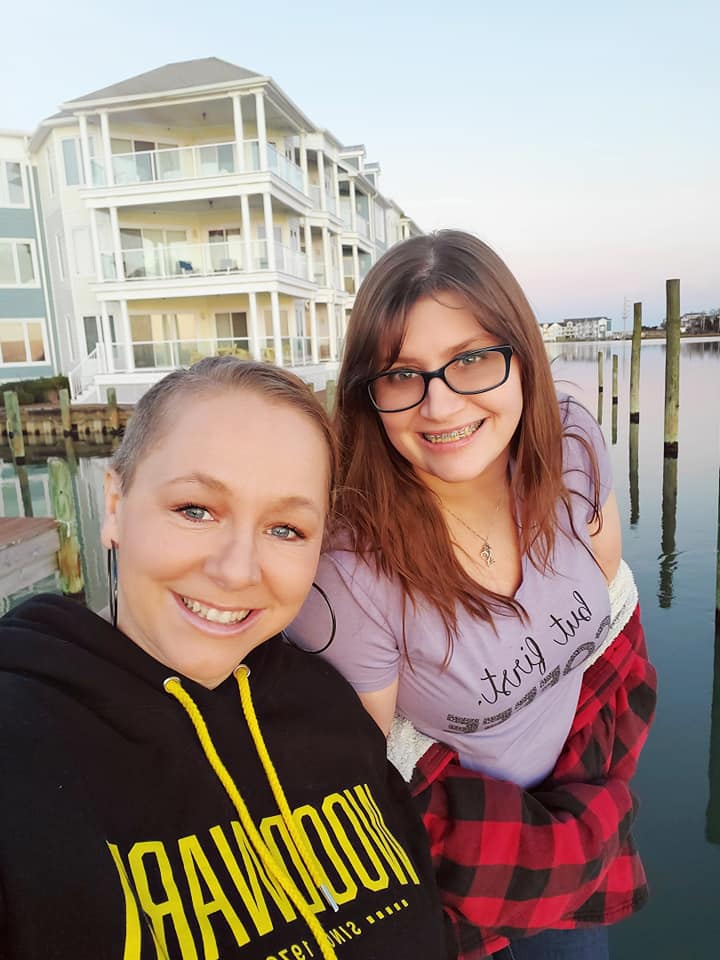 I work for Devon… not just because she pays me, but because it's like working with family. There is a comfort and openness that I've never had working anywhere else. My opinion is valued and appreciated, and my skillset is valued and even encouraged to grow. There is an honesty and respect that you don't usually see in big work place politics. We aren't scared to put each other in their place. She tells me I've gone off on a tangent and got distracted (ADD… Just saying, it's brutal!) and I'm not scared to tell her that the fifteen different folders for the exact same thing really gotta go. There is respect, love, friendship, Christ, honesty and so much more working with Devon, because that's WHO SHE IS, and it's who we have become as a team. Devon always says this, but Dev, MY TURN! I LOVE MY JOB! 🙂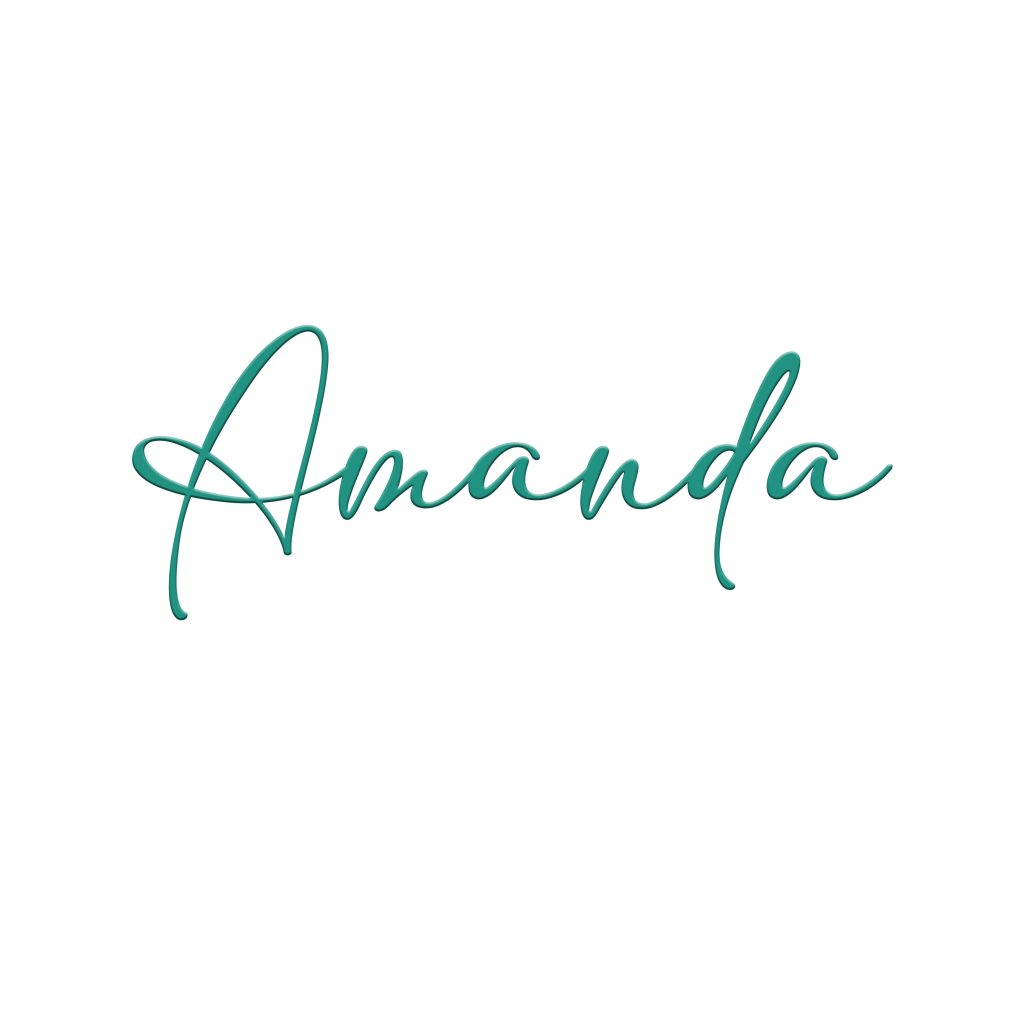 • February 8th, 2021 •
Copyright ©  Devon Shanor Photography | All rights reserved
How many years has it been since YOU took your last family portraits? If you answer is more than 3 years, it's TIME!!! Don't let the years slip away with out taking time to "freeze time" with a beautiful family portrait you can cherish for generations.
I LOVED getting the Bullock family in front of my camera. Three STUNNING women with big hearts and beautiful smiles. (Yes, this is a mother daughters portrait- not sisters!) We wanted to have a little fun so we brought some smoke bombs to the beach and created a little magic. They even brought their dog who LOVED all the adventure of being at the beach~!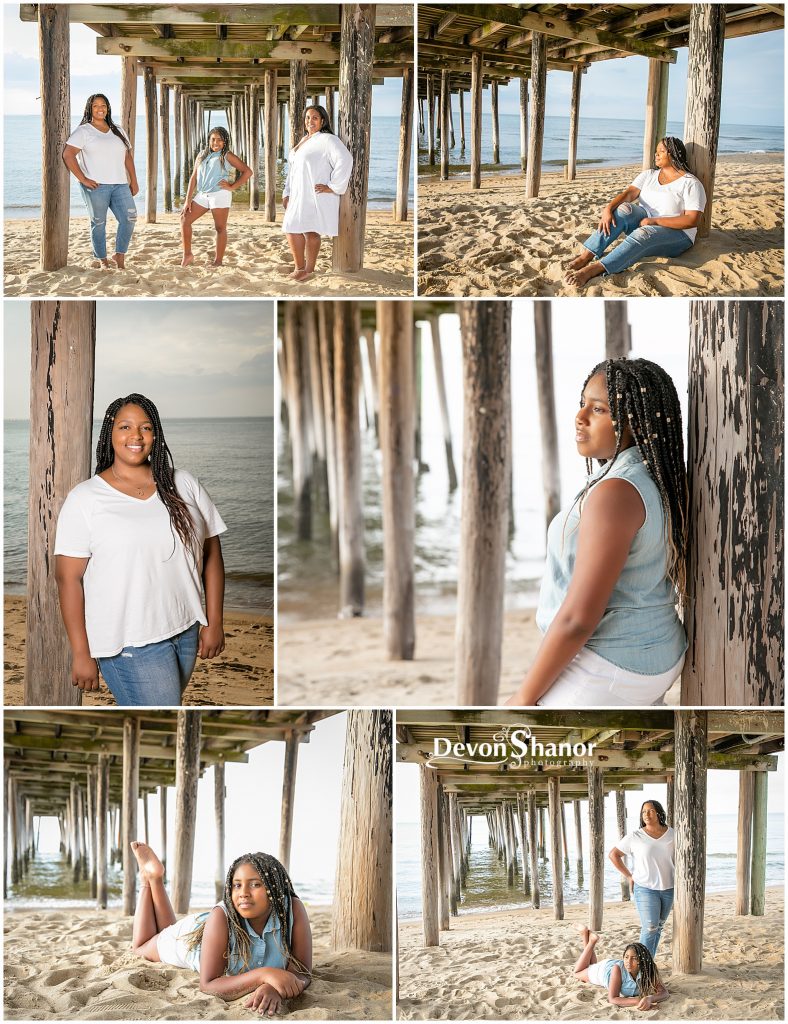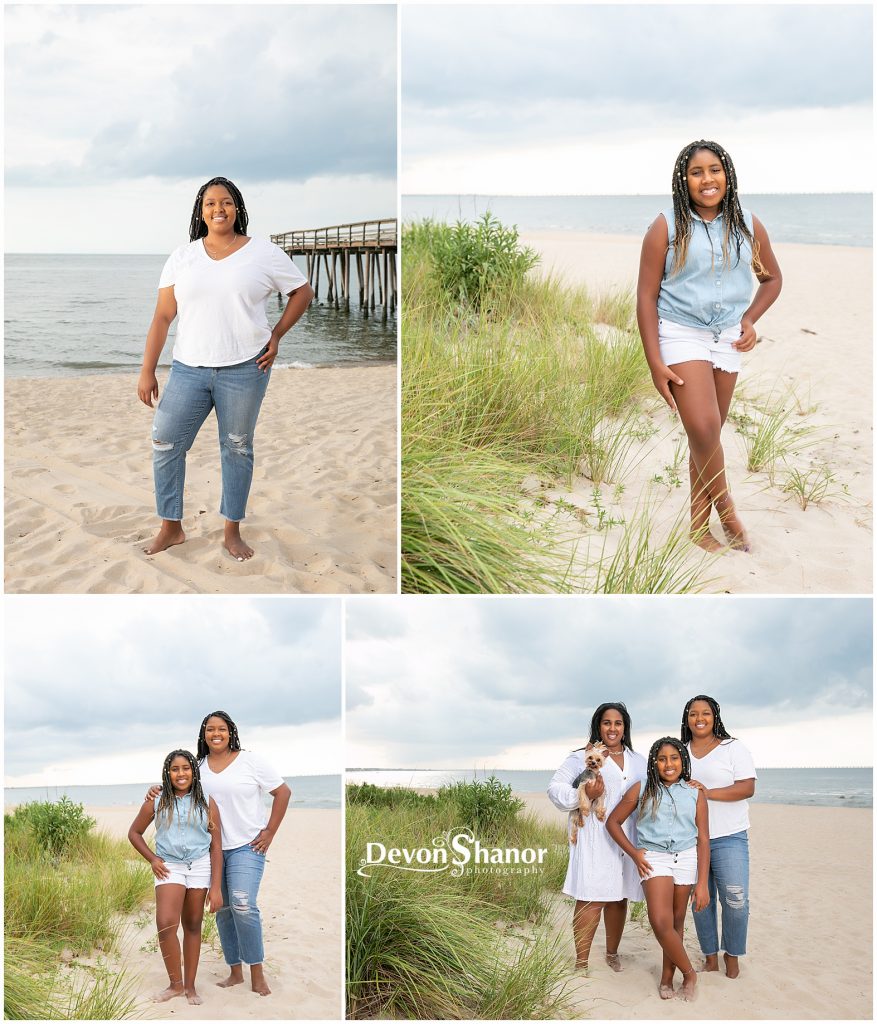 It had been a RAINY week so we were so grateful God let the sun shine and kept us dry. Jess and girls, Thank you so much for allowing me to capture your family.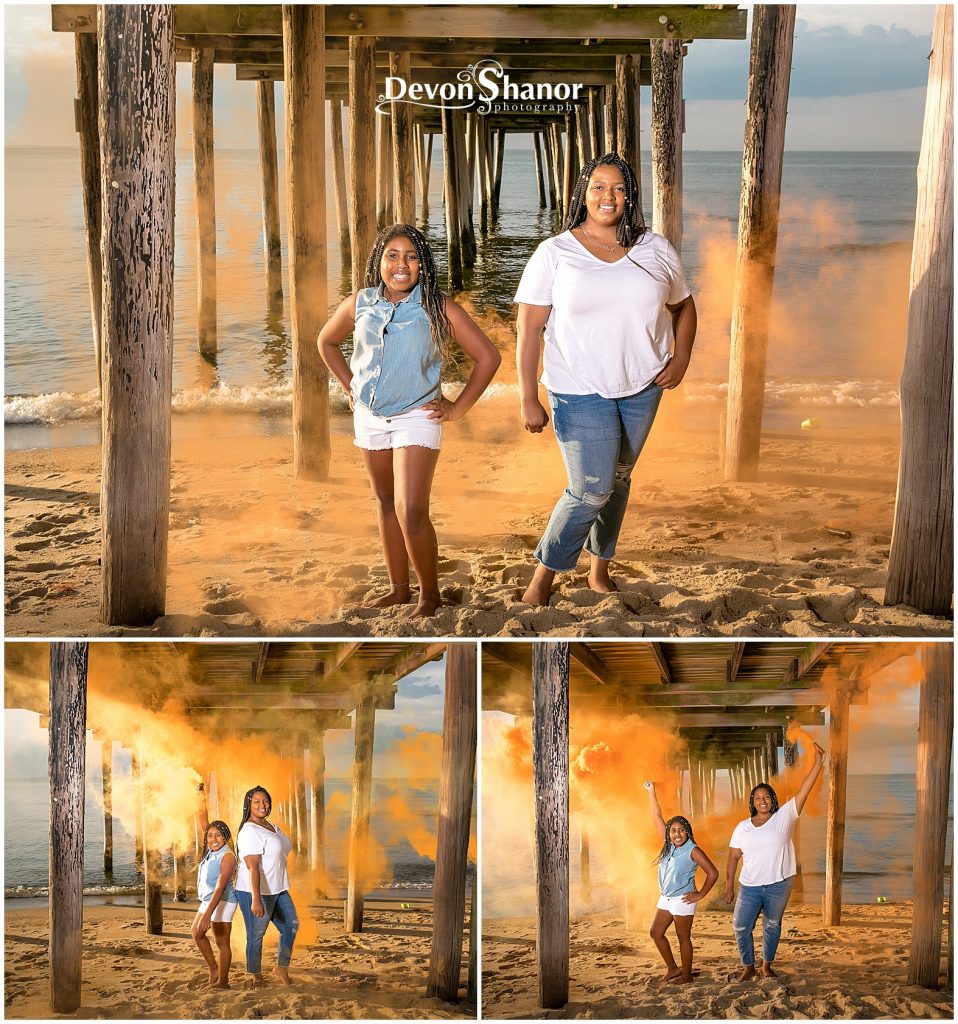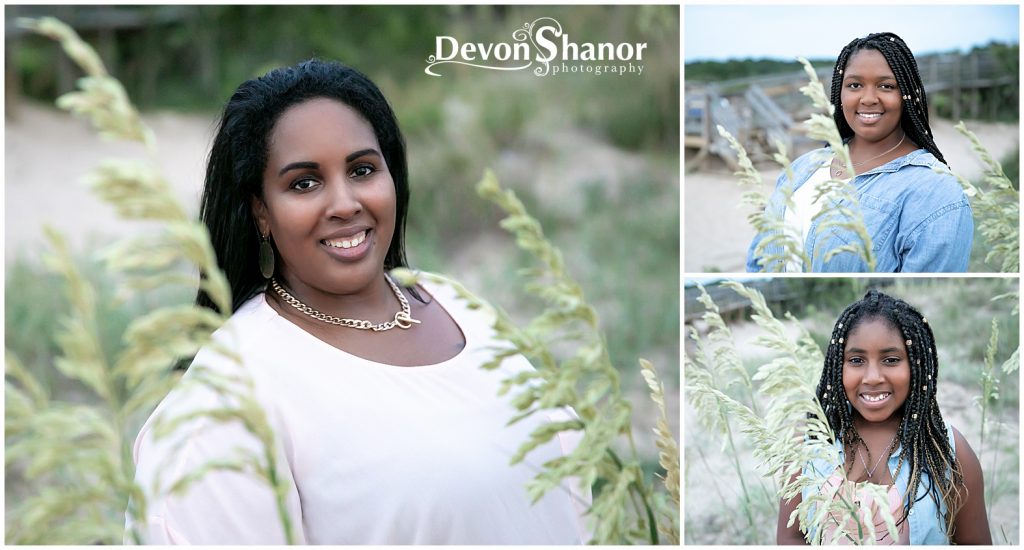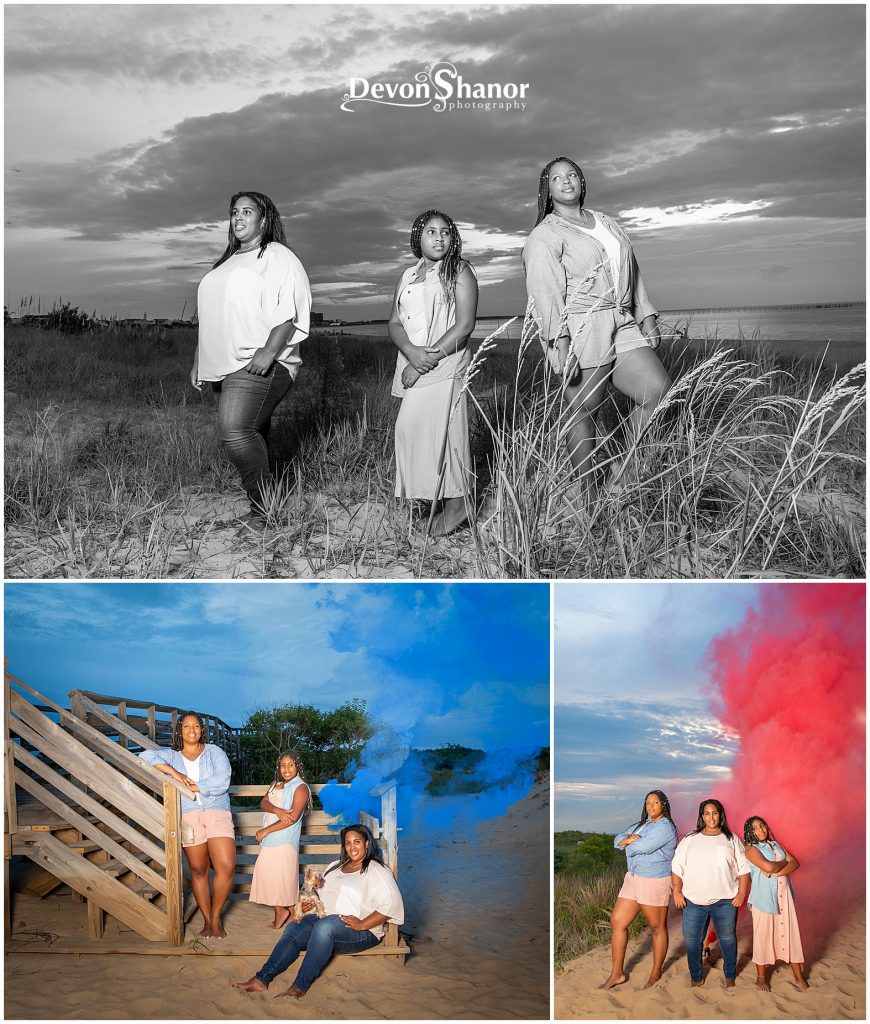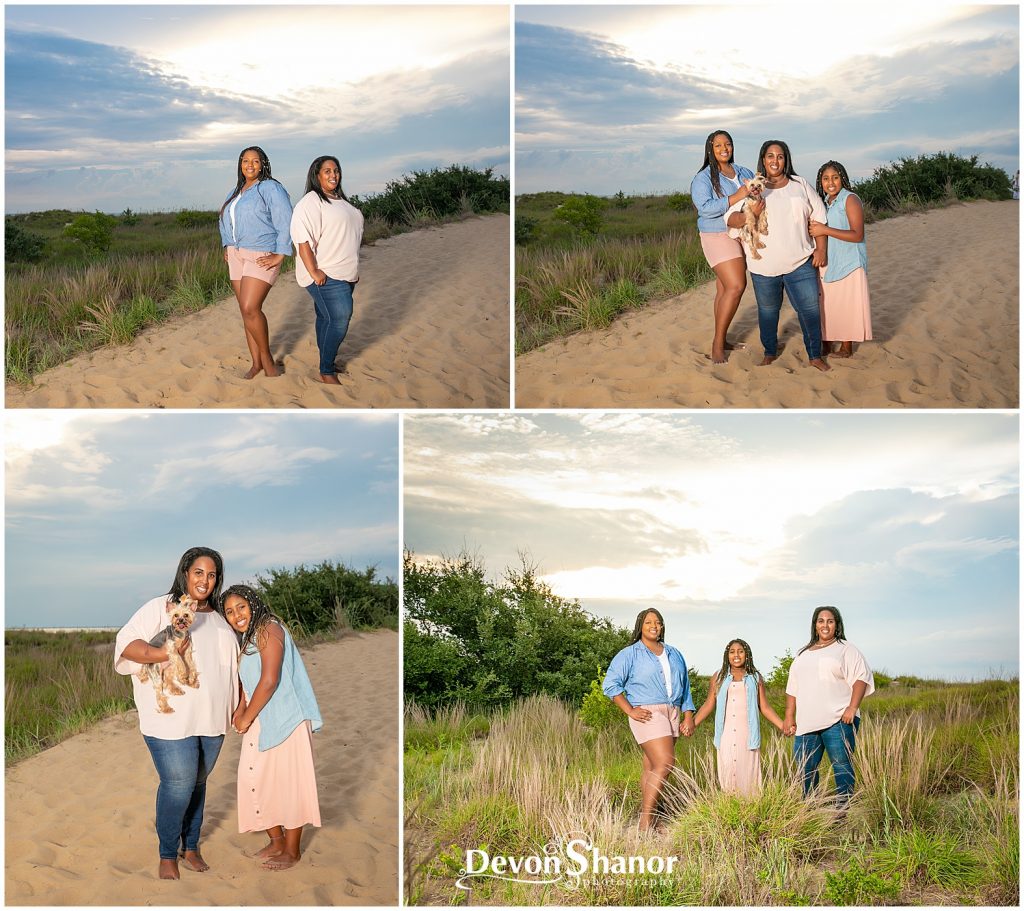 • September 25th, 2020 •
Copyright ©  Devon Shanor Photography | All rights reserved
The Reynolds had some exciting news and called me to help them celebrate!! Their girls Maia and Taelor were turning one AND they were finally getting adopted!! (We shot this session last year but we weren't able to share them just yet as they were in the foster care system.) These beautiful girls had a difficult start to their story but have found their forever home with an AMAZING new family with a great new mom and dad and LOTS of big brothers and sisters (they are joining six other siblings!)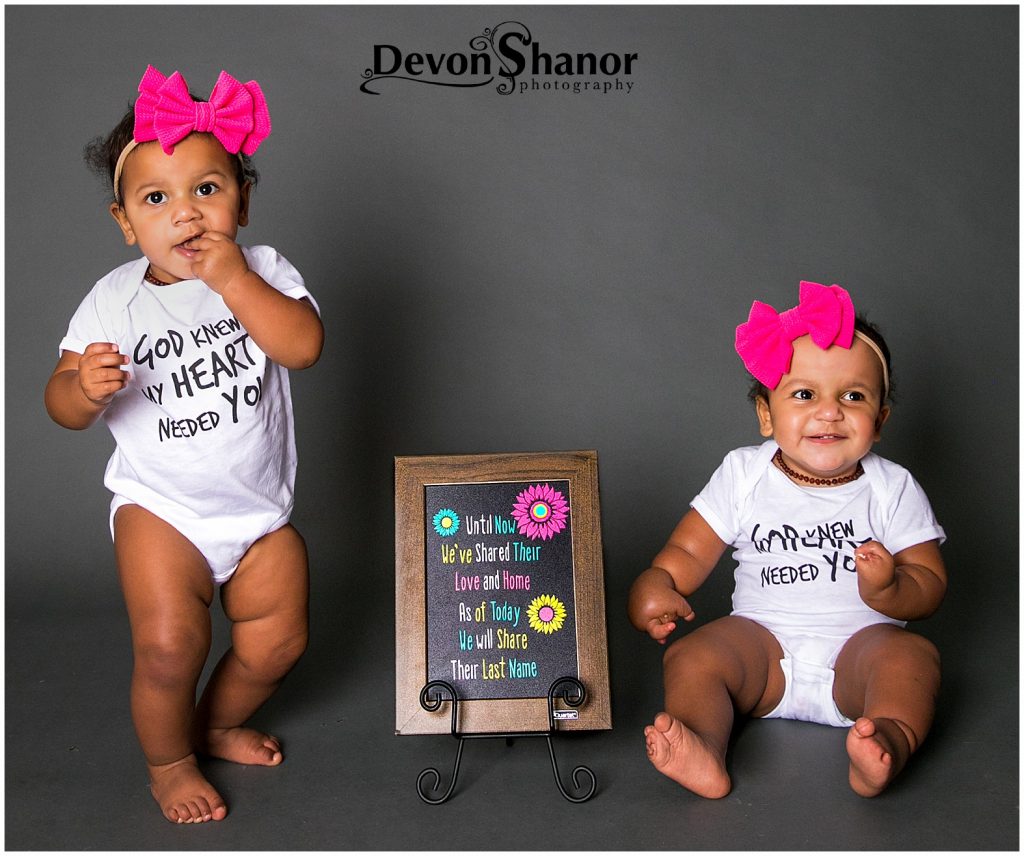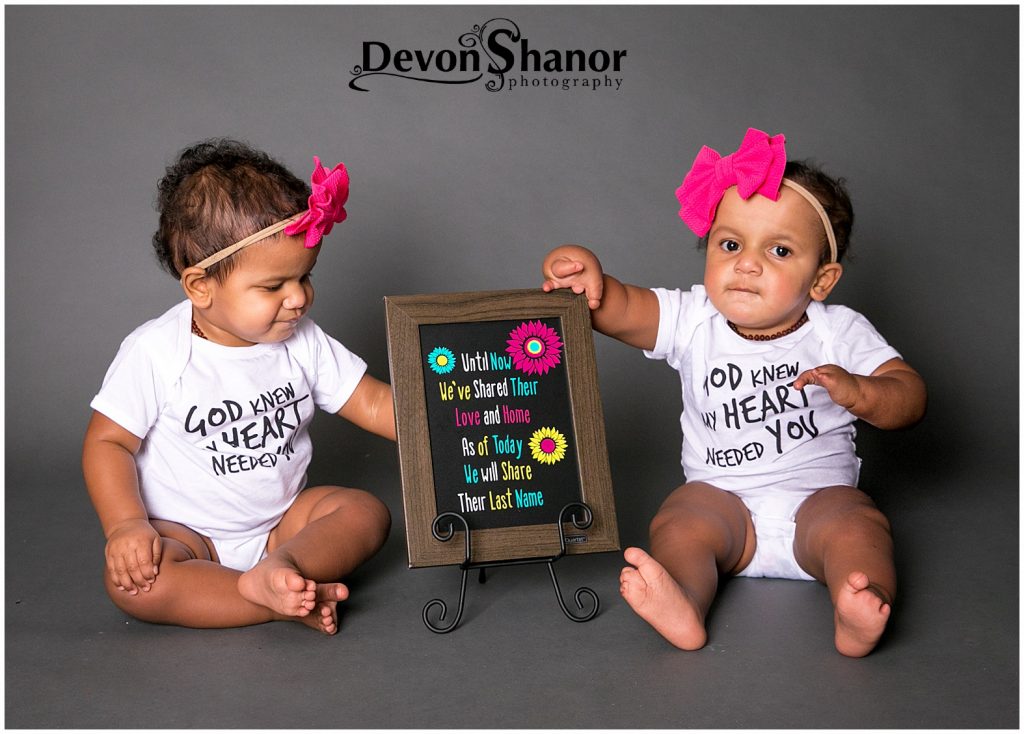 So much excitement and we decided to capture the milestones with pictures, tutus, rubber duckies and CAKE! These girls did great in front of the camera, although Taelor was not such a fan of the tutu. She took a little convincing to sit by herself but some snacks and a ballon helped!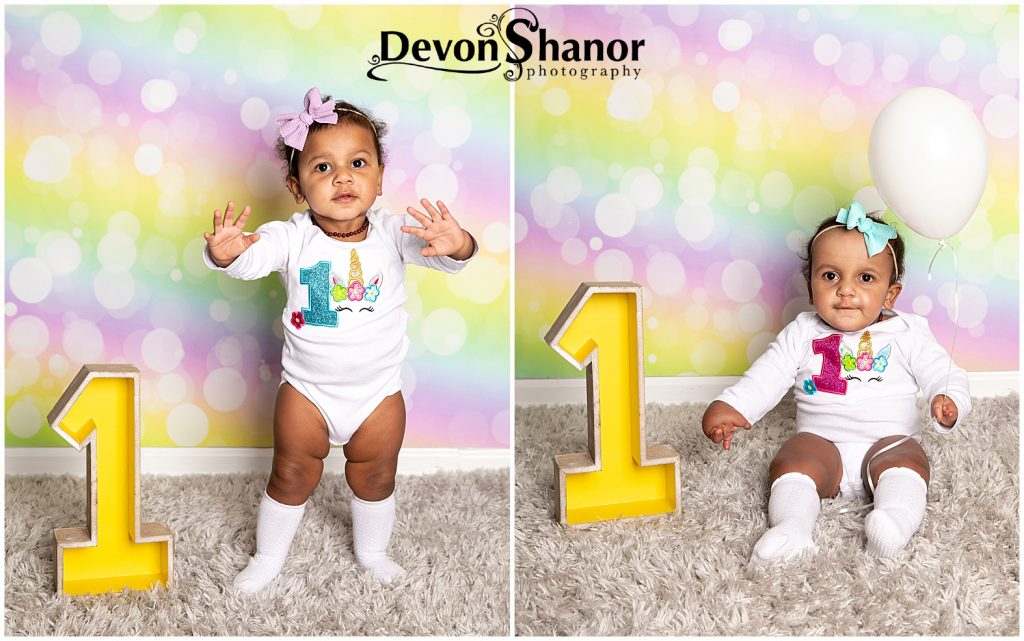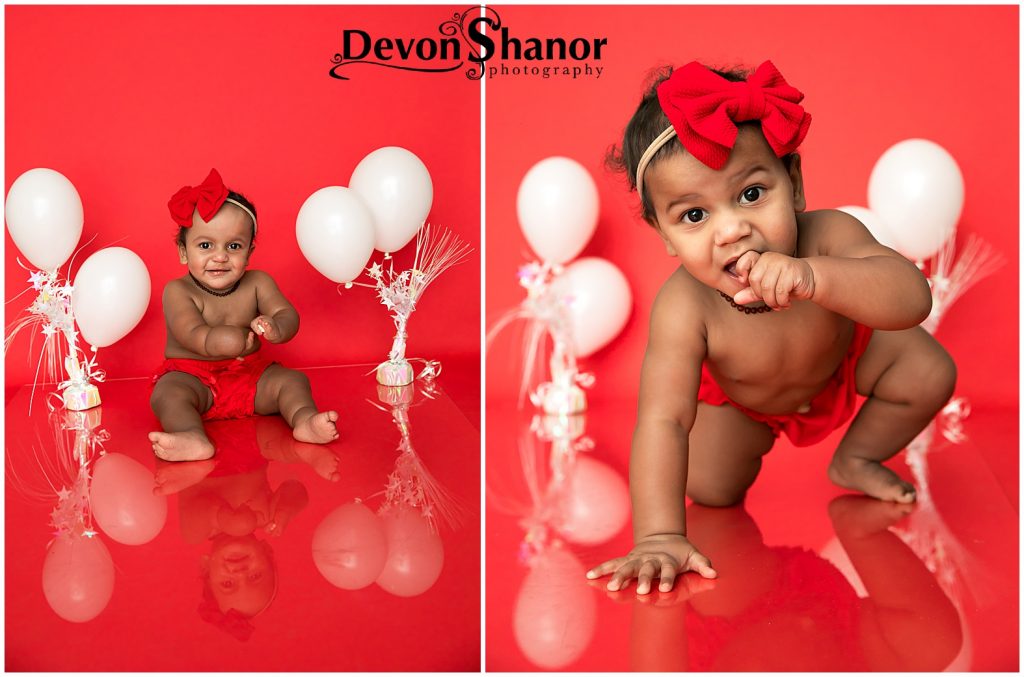 One year portraits are one of my favorites to shoot and these beautiful girls made it twice as nice! (Although it was also twice the mess, all that sticky cake and frosting!!!)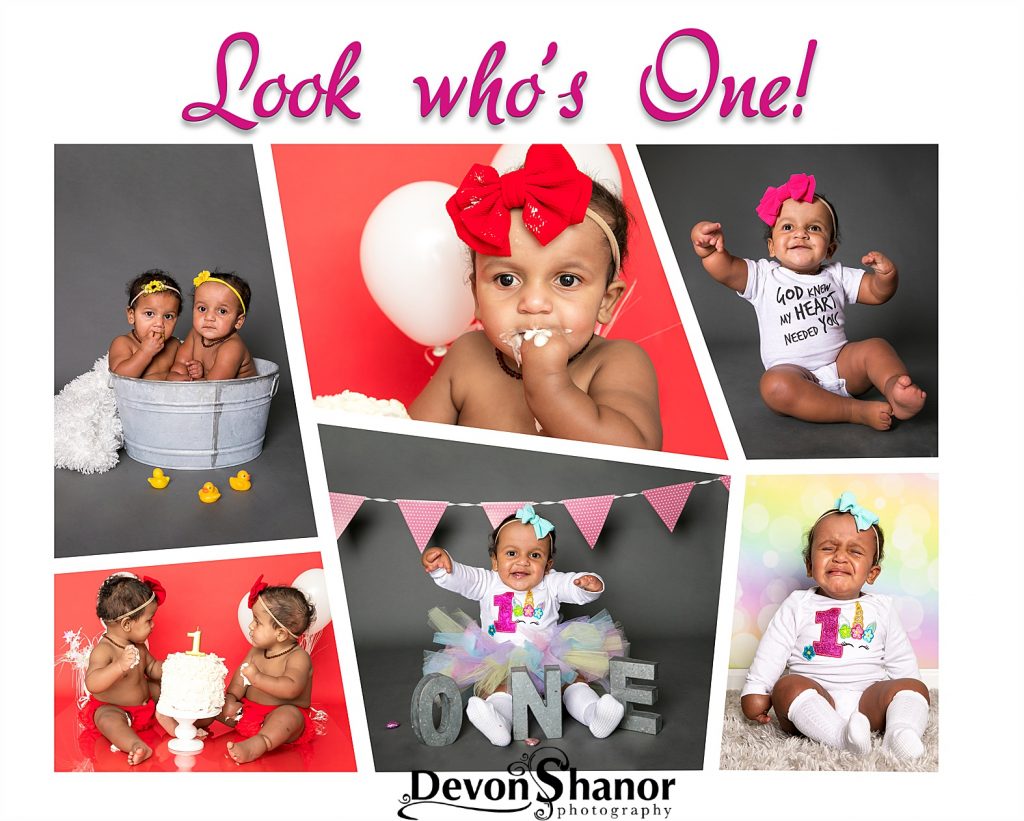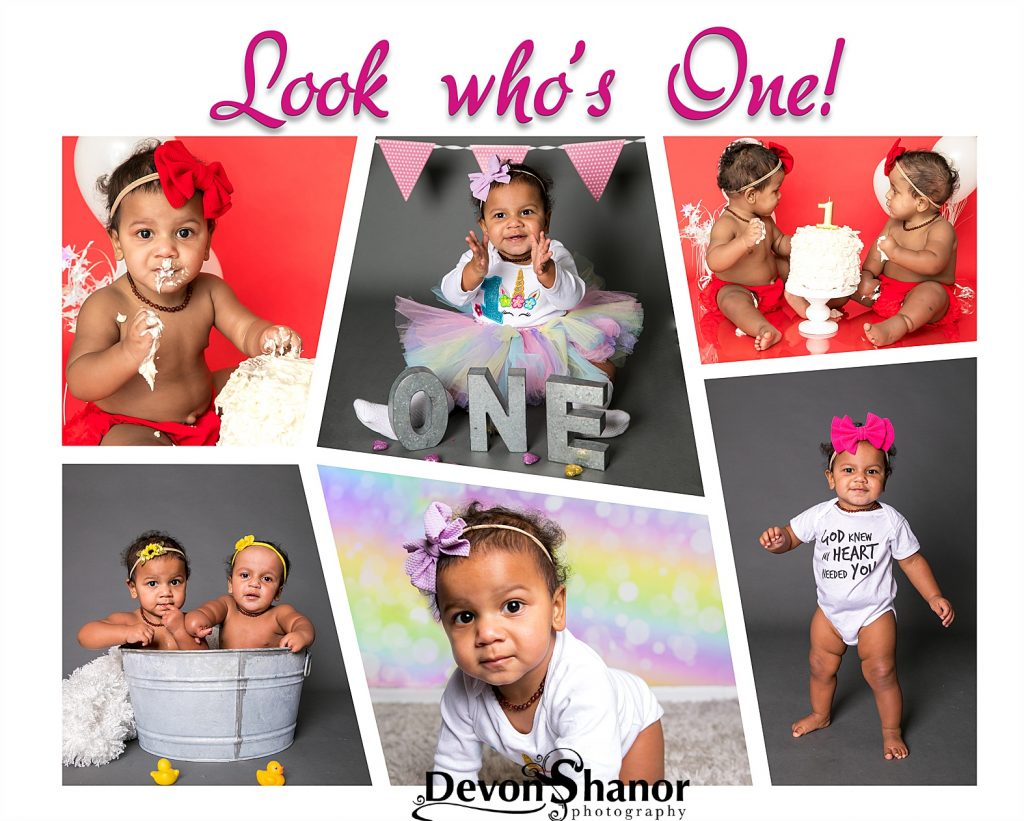 I adore this family and cannot wait to watch these beautiful girls grow up in their new family with so many big brothers and sisters! Maybe someday we get the whole family of 10 together for some updated family portraits!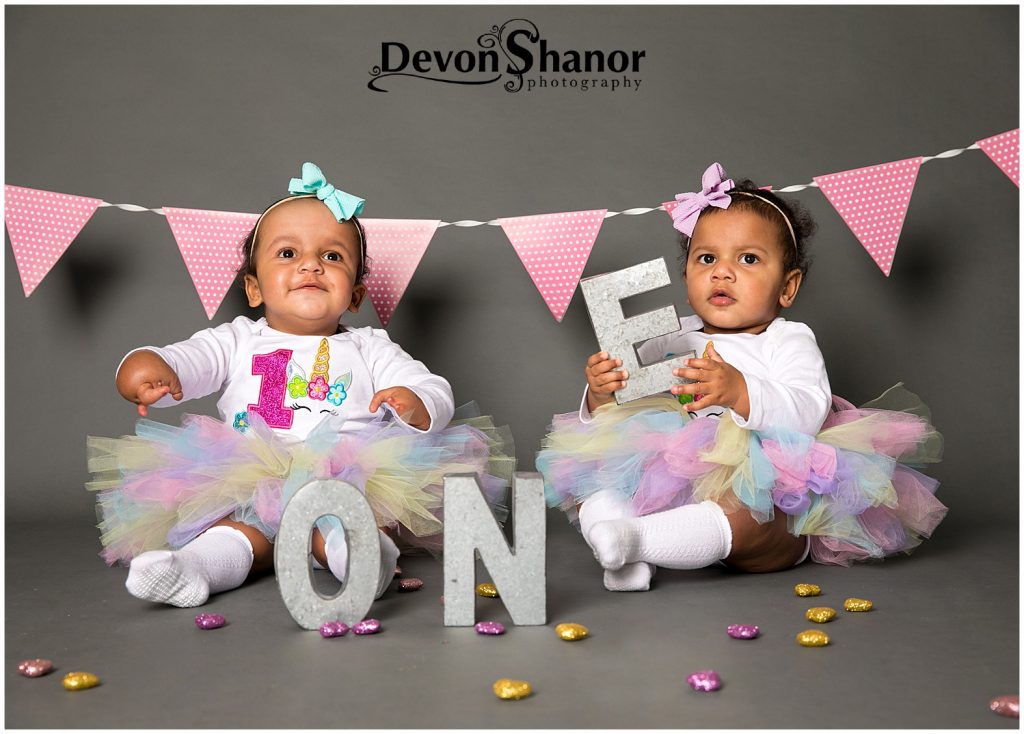 • May 11th, 2020 •
Copyright ©  Devon Shanor Photography | All rights reserved
Yes I worked on Mother's Day. My church, Freedom Fellowship, and I have done family portraits on Mother's Day for the past 8 years or so. It has become a traditional so many of us look forward to each year! It might only be a few minutes and you might only get 3-4 images, but even just ONE beautiful portrait is such a gift to us moms.
We have some phenomenal women in our church and such wonderful examples of motherhood! We have single moms doing this all on their own without any support from their children's fathers. We have mothers who have lost their husband and have been thrust into single motherhood unexpectedly. We have mothers who never got to hold their babies but are still mothers to heavenly children. We have mothers who are without biological children but have many spiritual children who look to them for advice and guidance. We have mothers who never birthed their children but choose to love a child born from another as their own. We have mothers who chose adoption for their children and have sacrificed knowing their children call another woman mom. We have mothers who struggled for years and needed the help of science to help them bring their children into the world. We have mothers whose children have emotionally cut them off, who mother now through their prayers, praying their children will reach out. We have mothers who's children have passed away and who have a very difficult time "celebrating" Mother's Day. We have grandmothers who fill the role as mom. We have military mother's who are celebrating being a mom while deployed across the world away from their children.
Motherhood takes on very different roles for different women. Mother's Day might have passed but take time to recognize ALL the different mothers in your life, in your neighborhood and at your job. Don't forget to celebrate their motherhood journey as well!

Please take a look at some of the amazing mom's I was able to photograph yesterday. I can't post them all as we had such a great turn out for our "Drive-Thru" Mothers day portraits. (We had a line of cars in the parking lot social distancing and waiting their turn to get out of their car!) This is just a snapshot of the phenomenal moms of my church. Such a blessing to know and photograph them!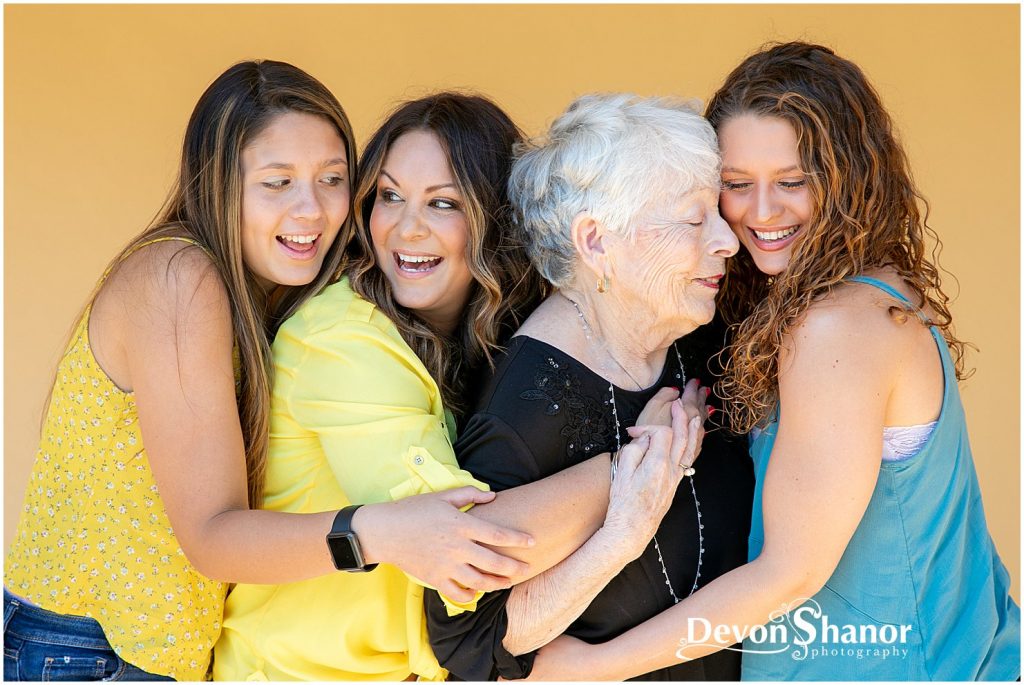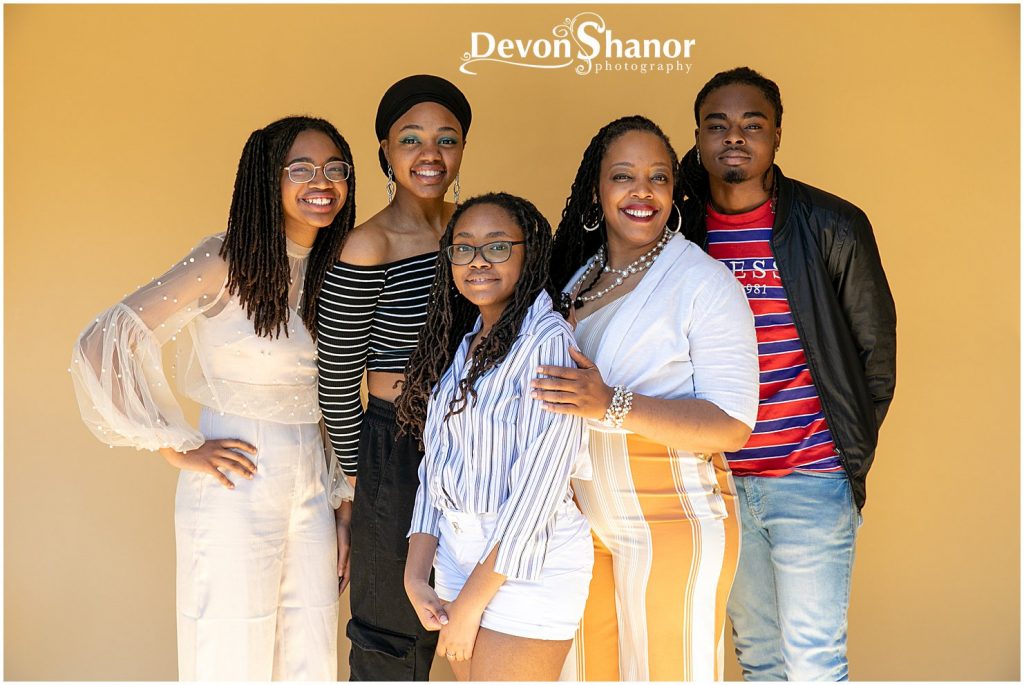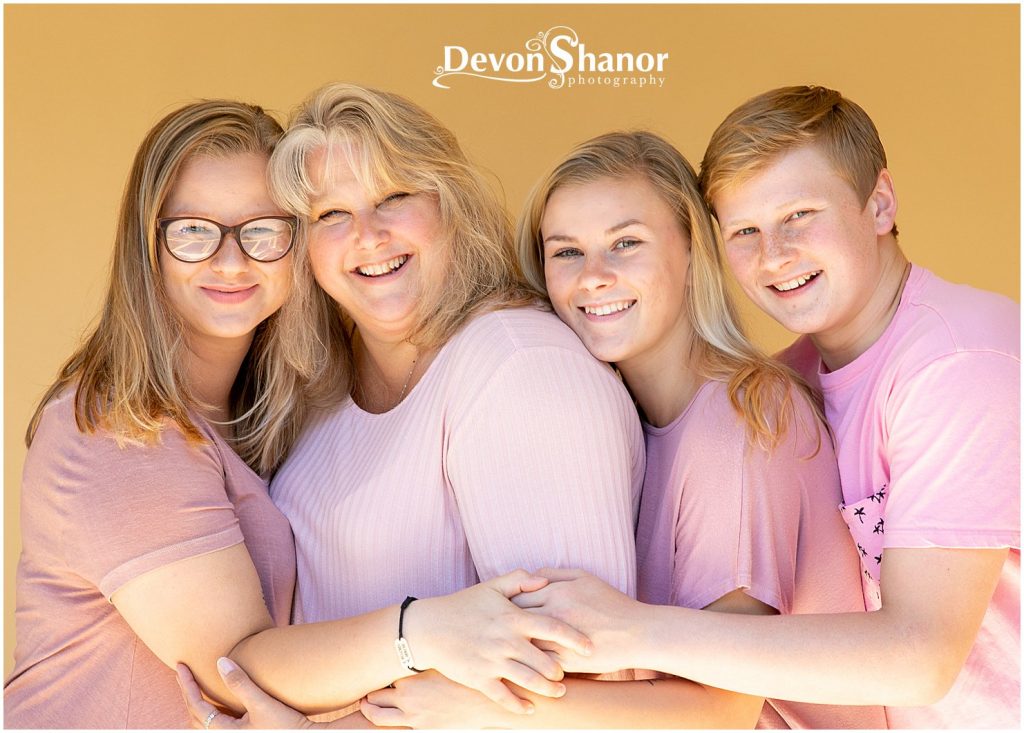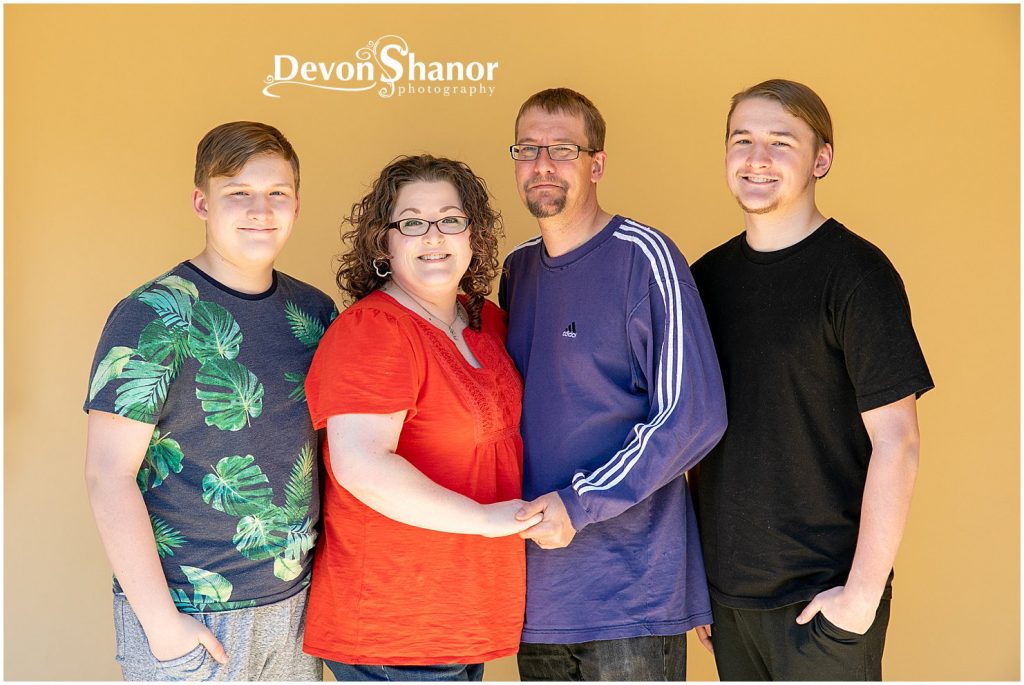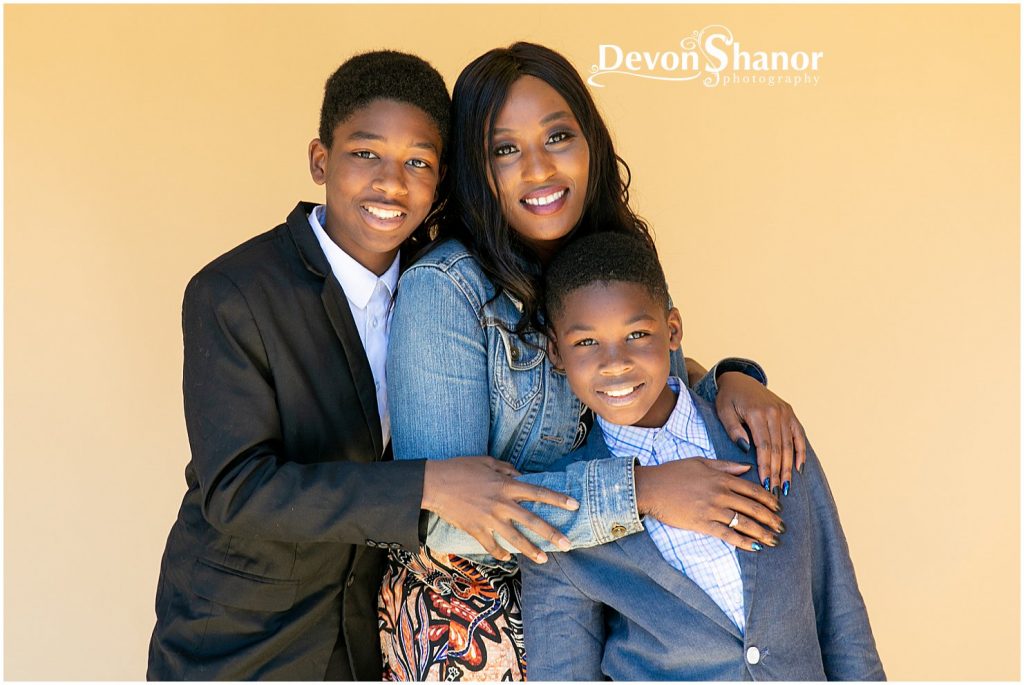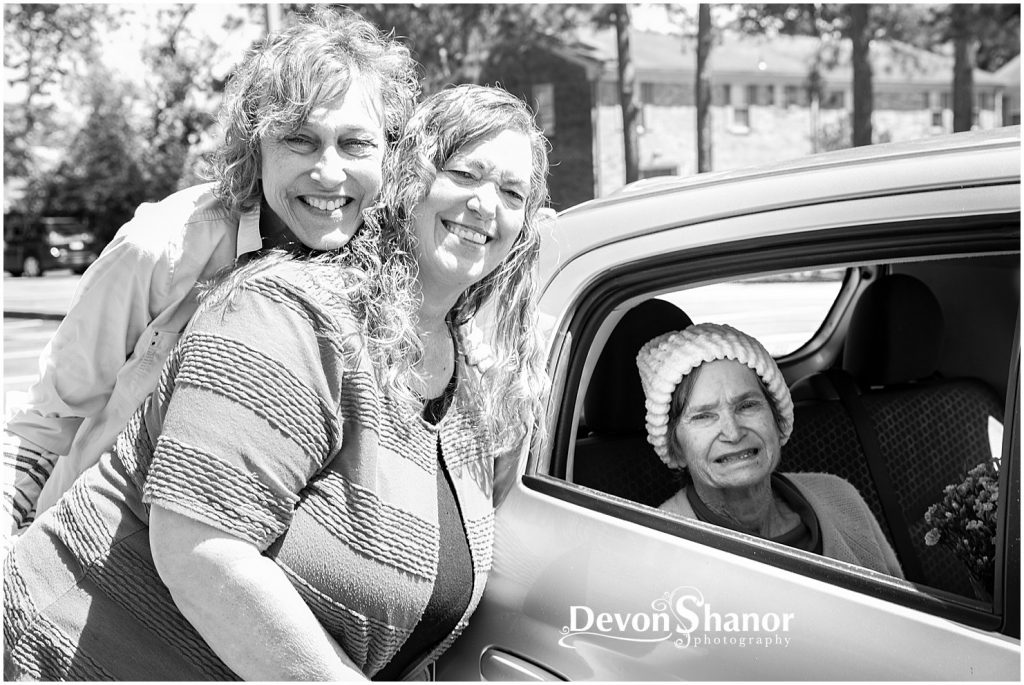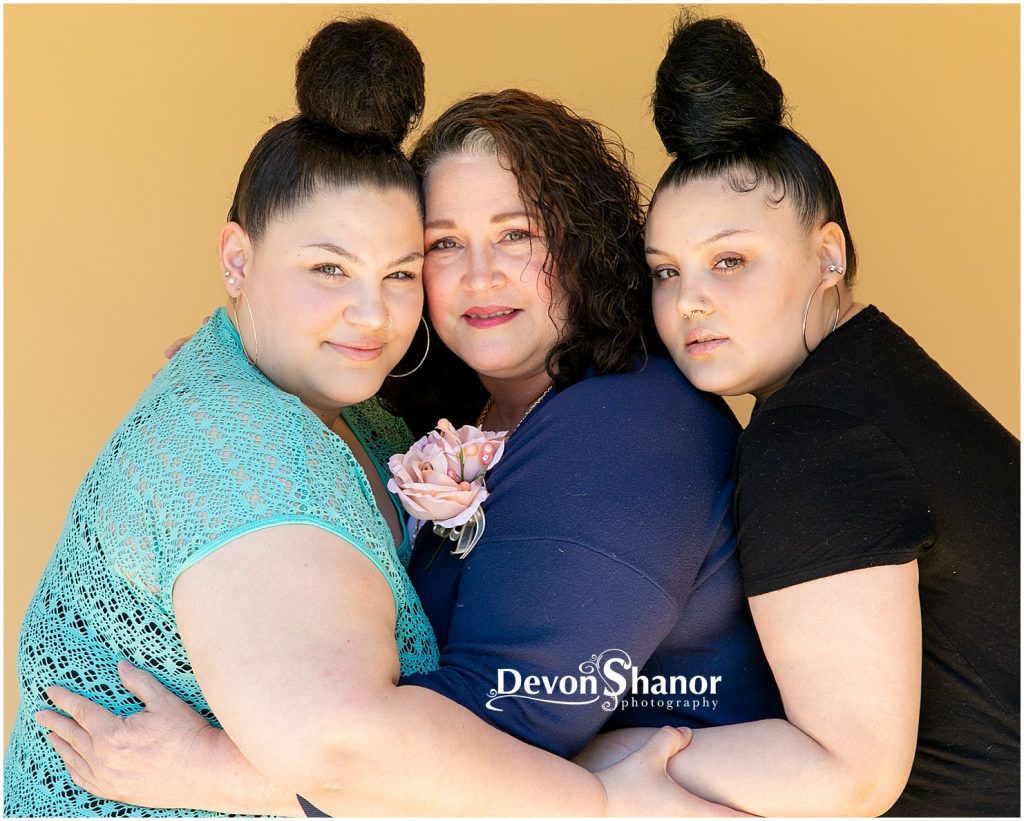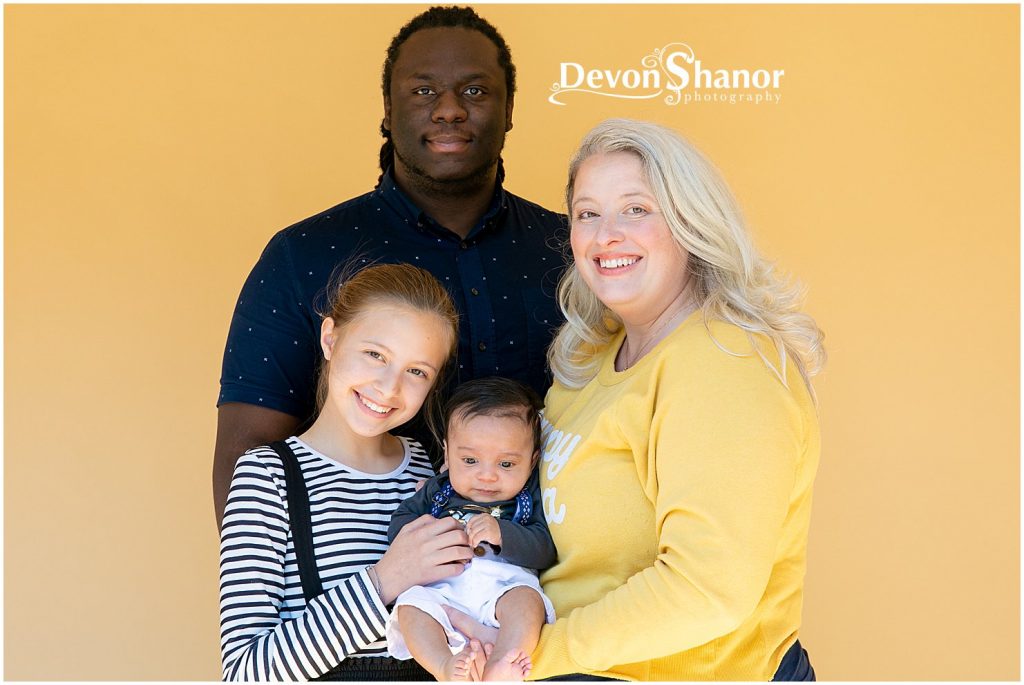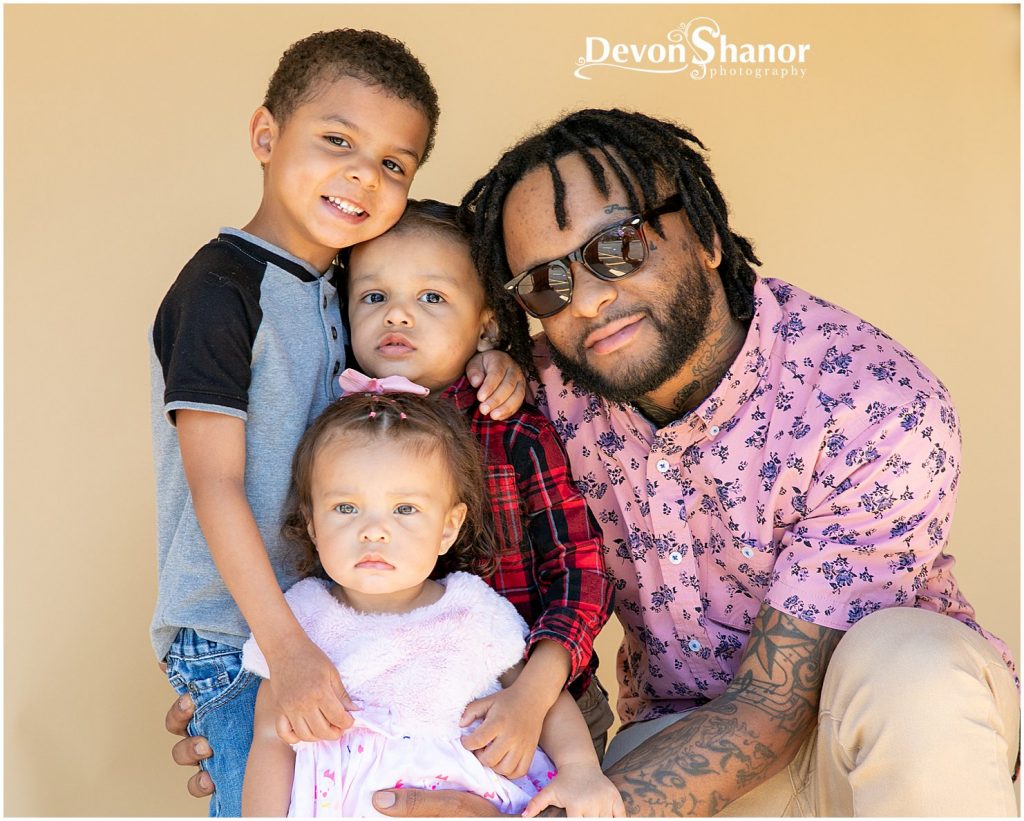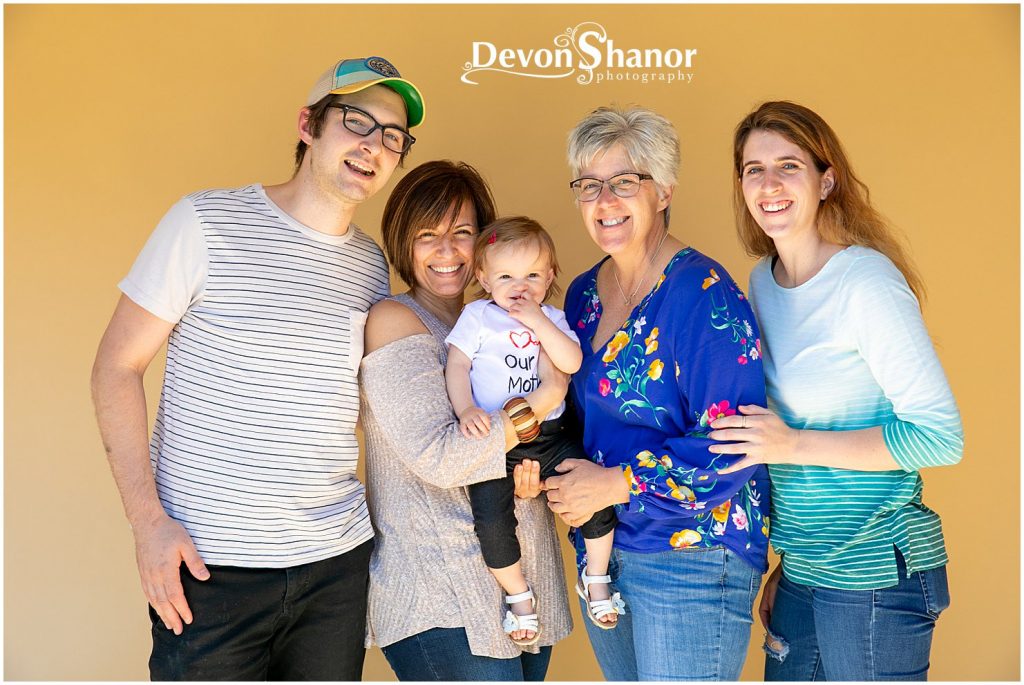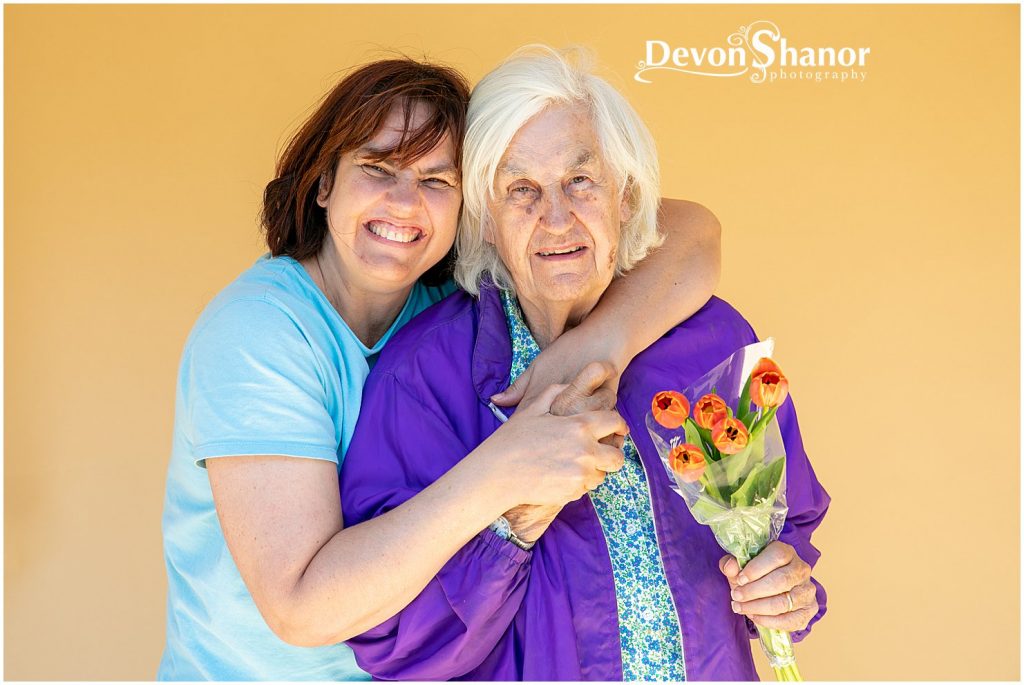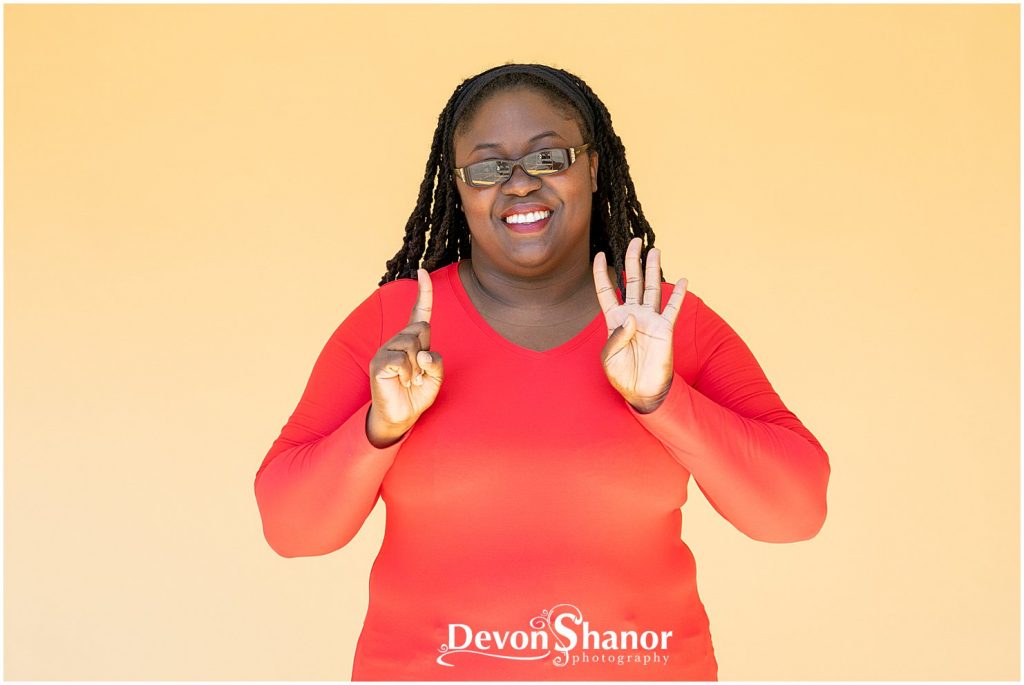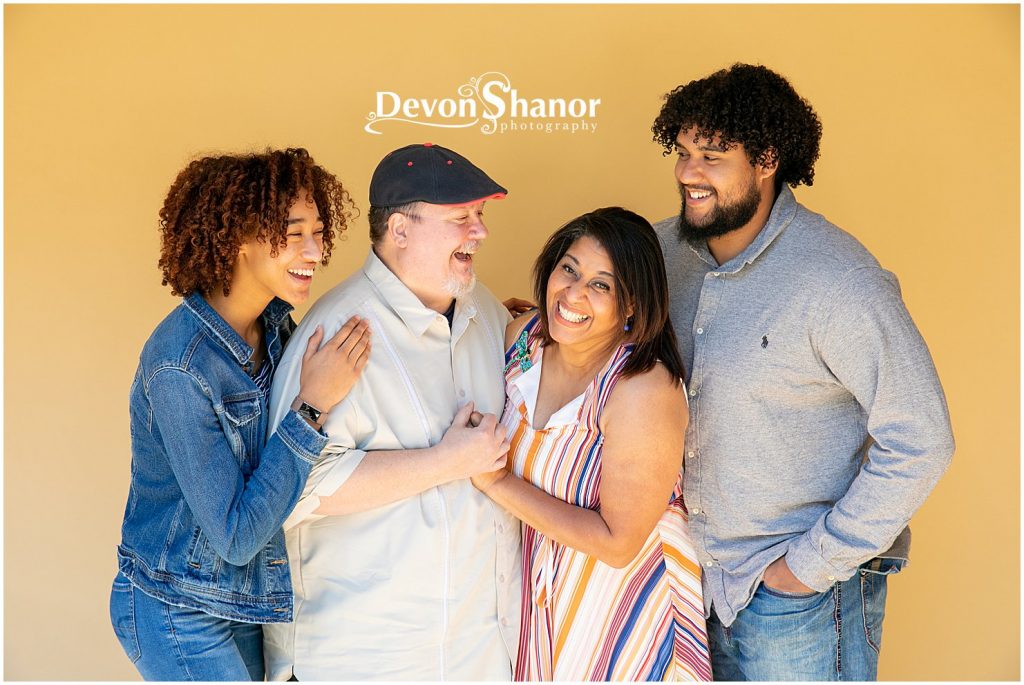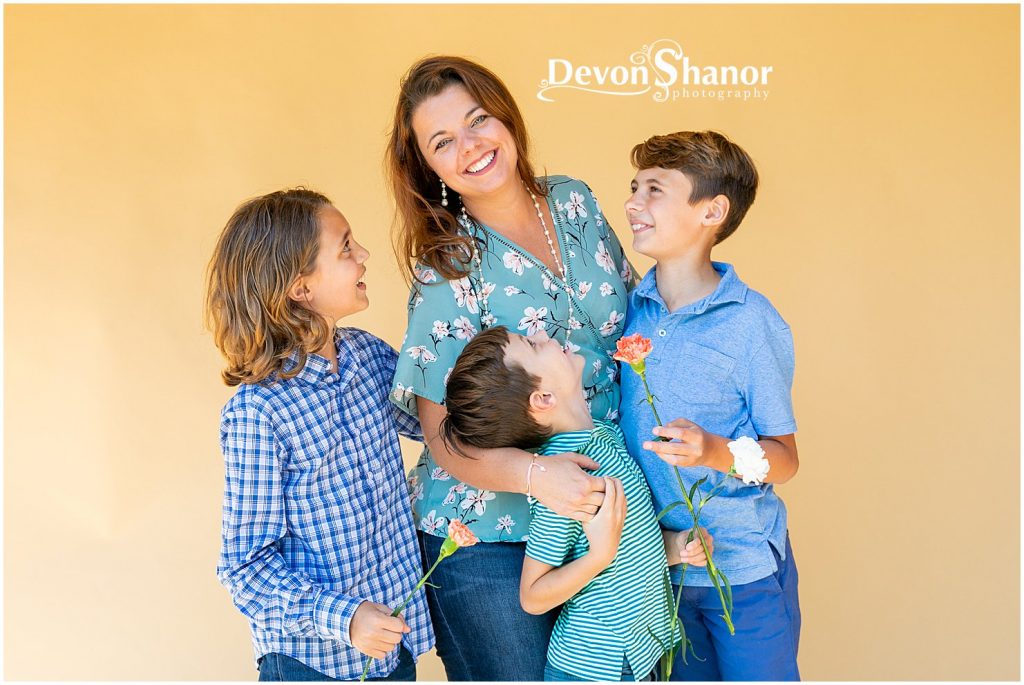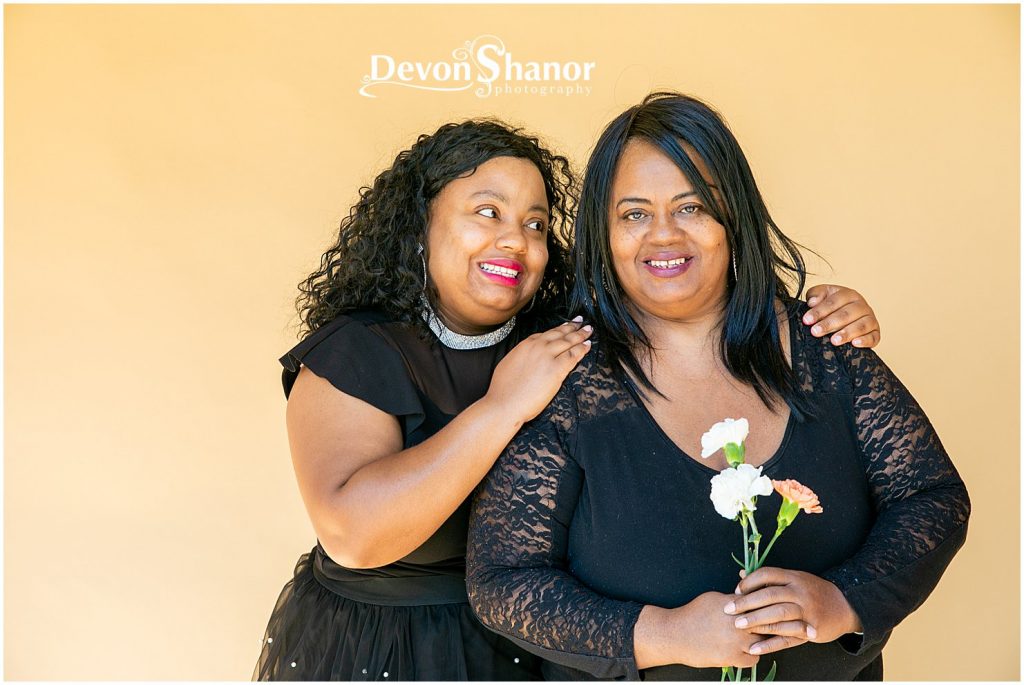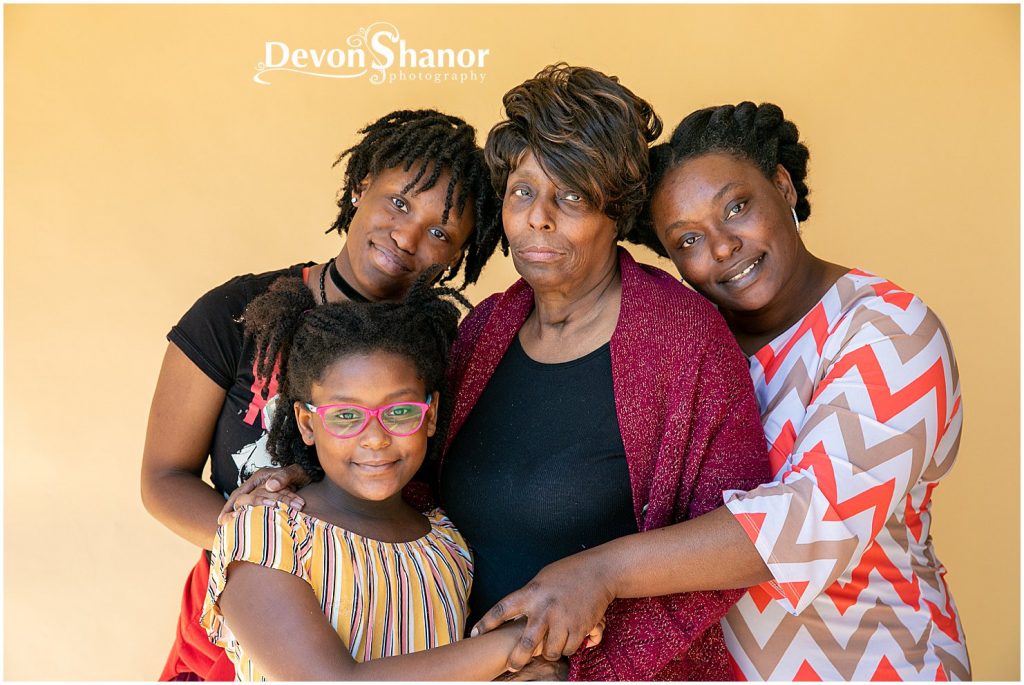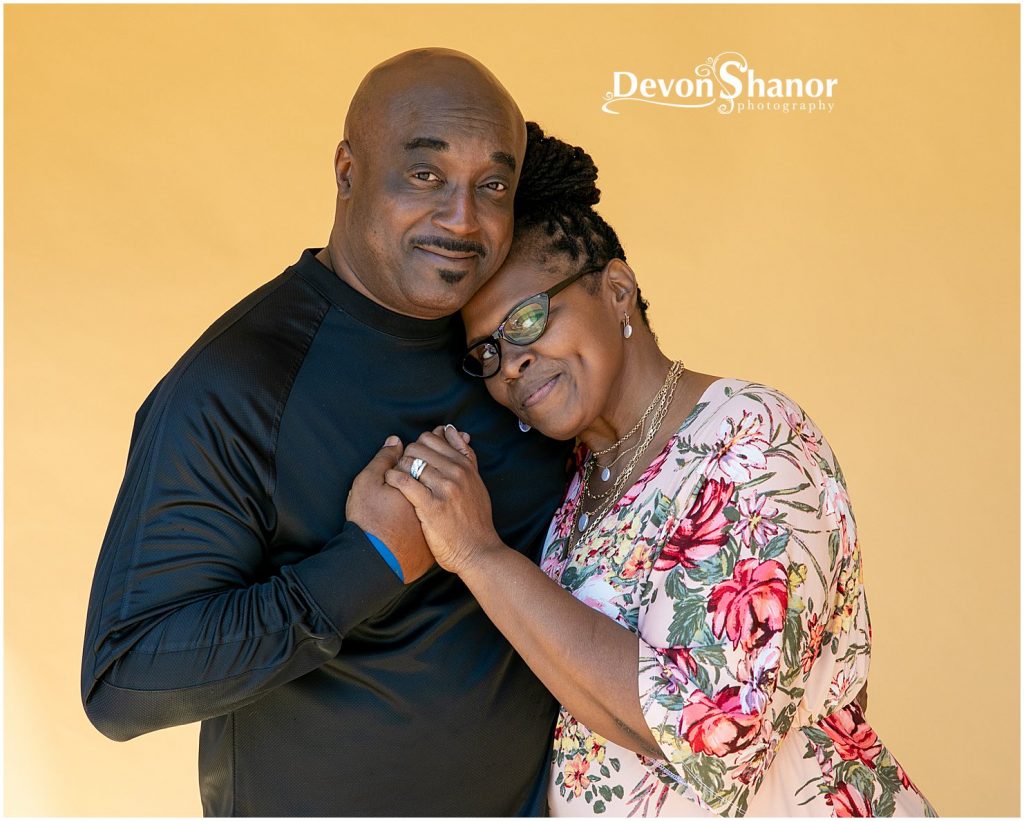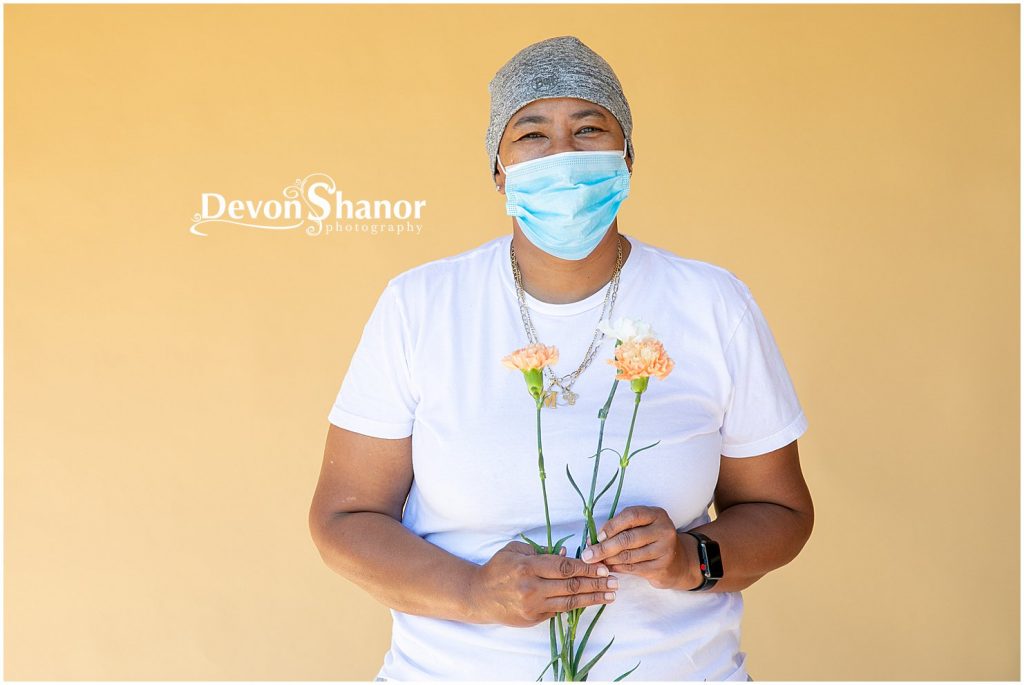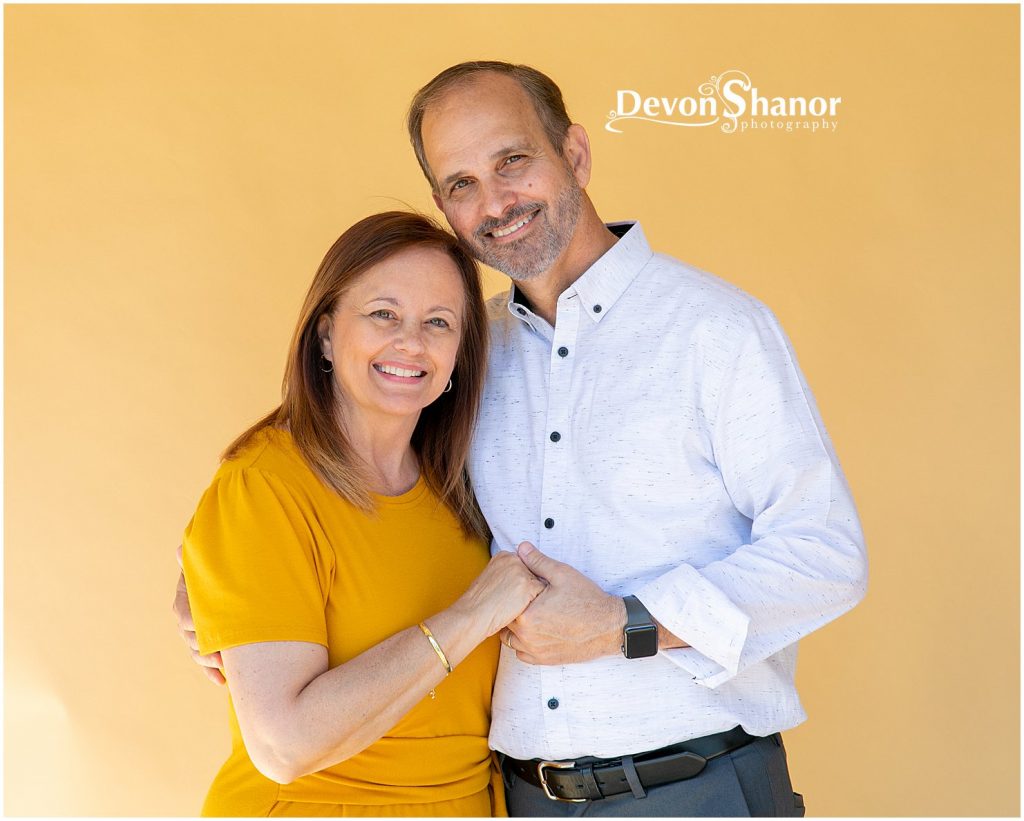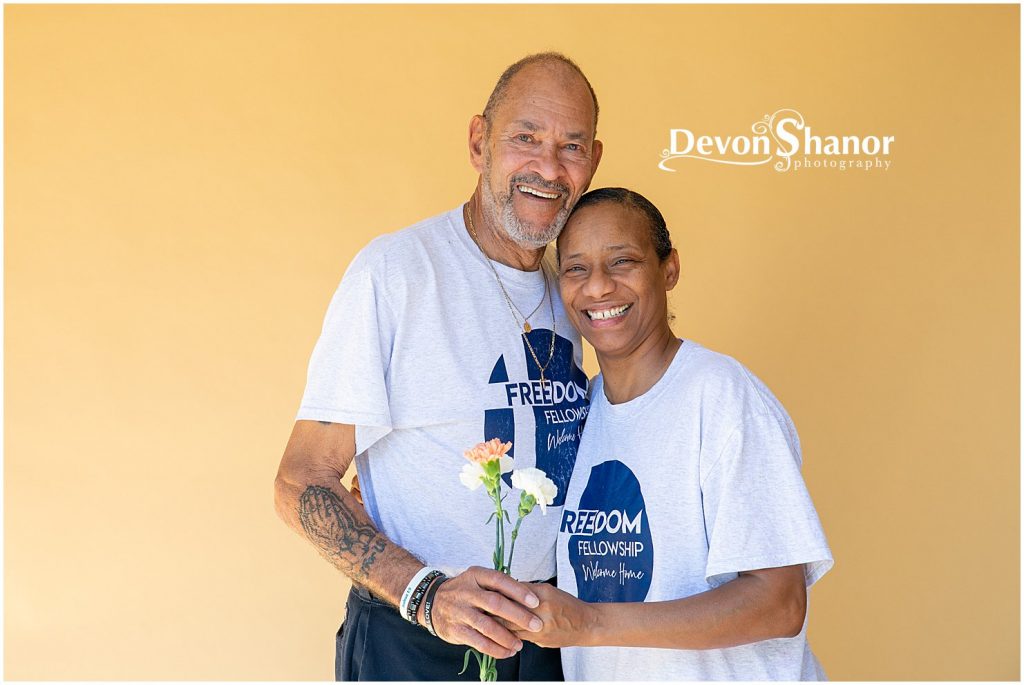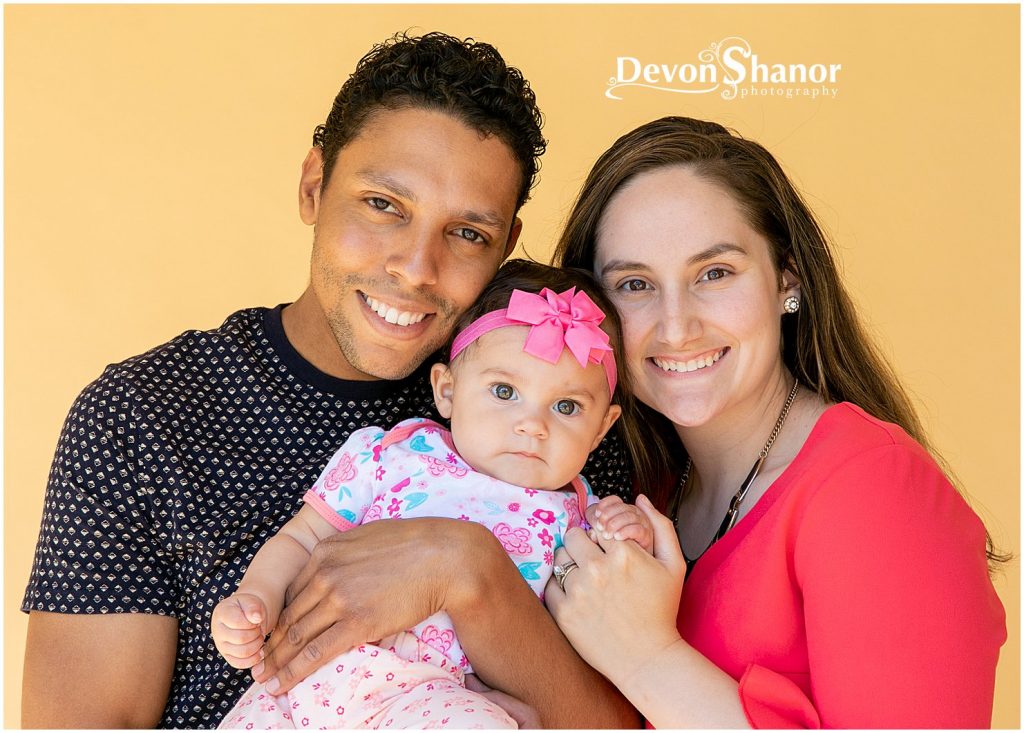 • May 10th, 2020 •
Copyright ©  Devon Shanor Photography | All rights reserved
Happy Mother's Day to all of the wonderful mother's out there. Whether you're a biological mom, adoptive mom, soon-to-be mom, grand-mom, step-mom, all around mother figure and everything in between, I hope you have a beautiful and wonderful day today, and are celebrated for the amazing people you are.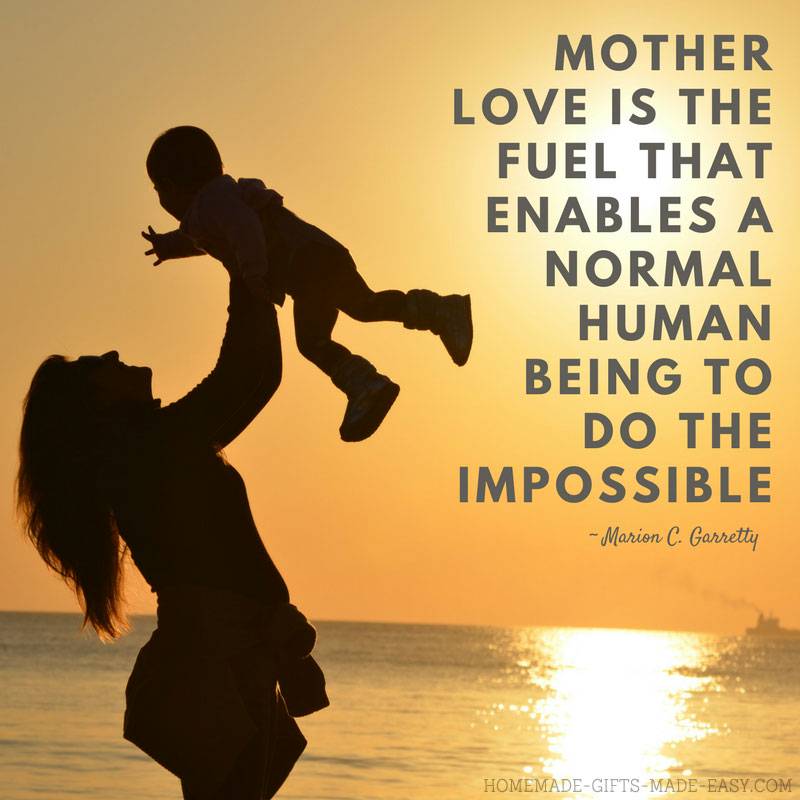 During this quarantine, our patience has been tested! Creativity has a new definition, and time is sometimes irrelevant. Did I do that yesterday morning? Or this morning? Wait, it's only 3:00, it's not bed time yet? I hear you. I've been there, but you know what? This too shall pass. Personally, this quarantine has been a beautiful reminder of what mother's and family are supposed to be all about. We are forced to go back to basics and spend quality time together, get creative, play games, and just be present in the moment.
Today, I am spending my day with my wonderful husband and beautiful boys. Had to get creative because they have been going stir crazy, so I made a tape race track in my living room. We have had race after after race and I'm exhausted and it's only 1:00. Andrew is down for a nap and Daddy and Bradley are outside playing. Mommy is going to kick back and read a book.
Enjoy this time together, take those few moments for yourself too. You're beautiful and you deserve it. Happy Mother's Day! You've got this!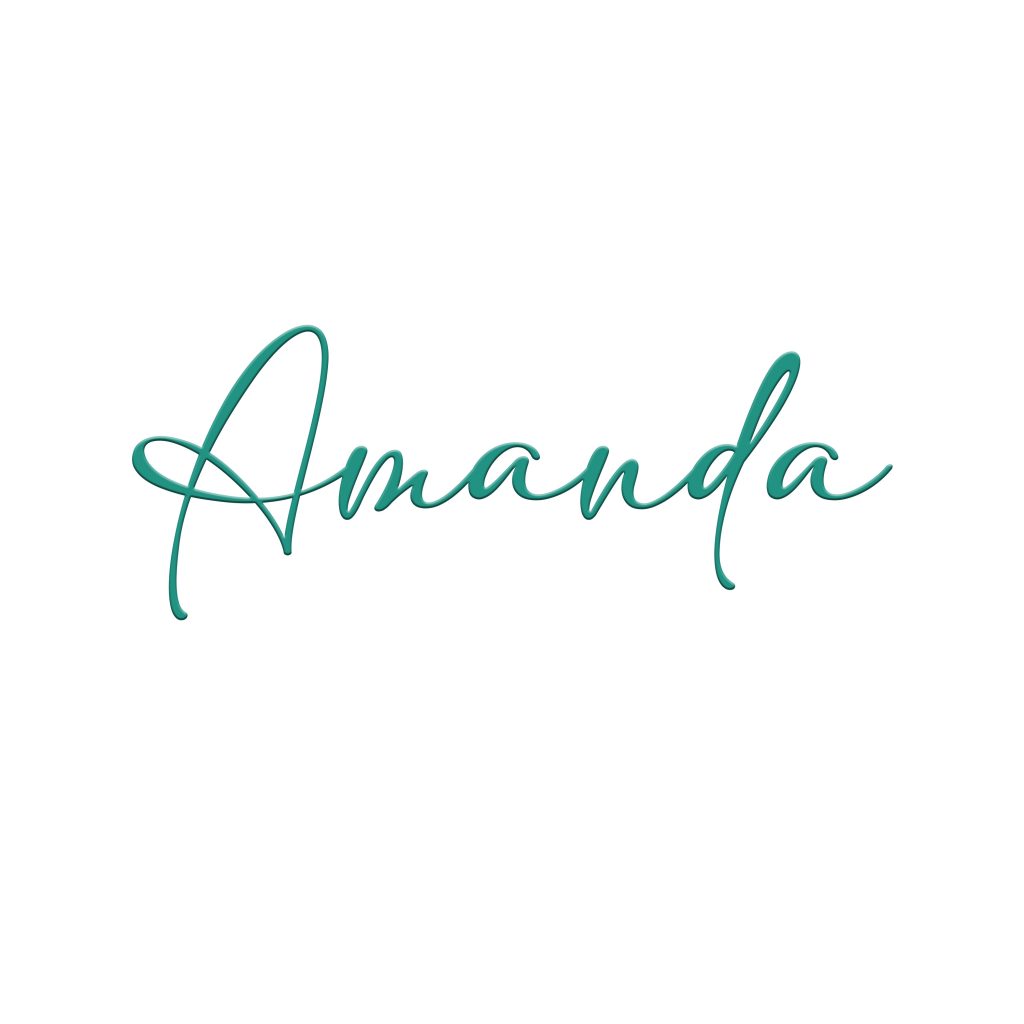 • March 28th, 2020 •
Copyright ©  Devon Shanor Photography | All rights reserved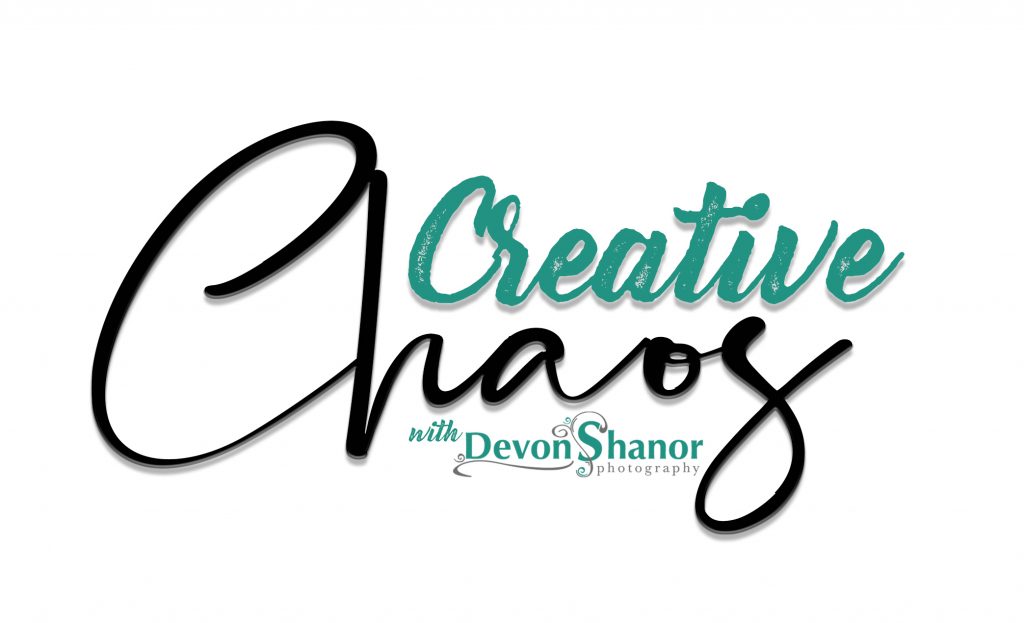 So this is what quarantine looks like at our house. Chaos.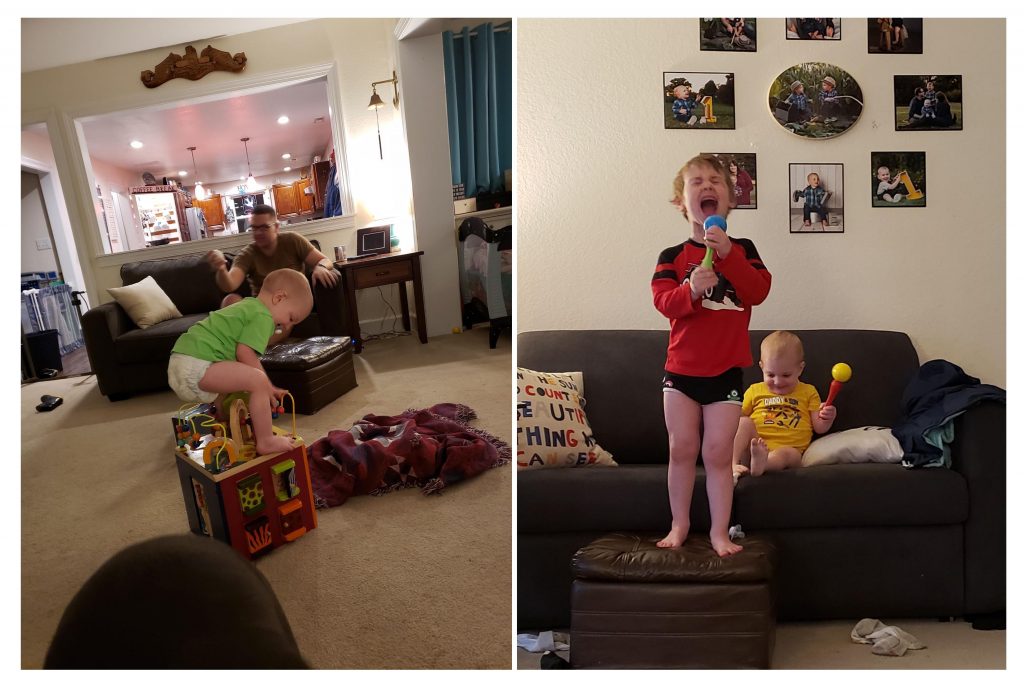 If you have two littles like I do, I'm sure you are going absolutely bonkers. With two boys, I hear a lot of fire sirens, abc's and have played game upon game of "firefighters" and lost about 700 races, had 400 meltdowns, 800 loads of laundry, and so much more… But you know what? That's okay! Even though my ears are constantly ringing (due to the high pitched siren my 3 year old produces, how he does that is beyond me.) I wouldn't trade this time with them and my husband for anything. Daddy is home from work (he's active duty so having him home is always a blessing!) and we have been able to have more family time than I could have ever hoped for. We are on day, what, 14 (I think) of this quarantine. If you're like me, all of your ideas for entertainment have all been exhausted and your backups of your backup cards have all been played. So what now? That is what this blog is all about.
We are not in this alone, whether you have small children, children of school age, children out of the house, no children, living at home, husband or wife deployed, home alone, or everything in between. This is for you. I will be posting a few times a week so, lets get off the couches (I know, they sure are comfy right now…) and do something, creative in the chaos… let's do this!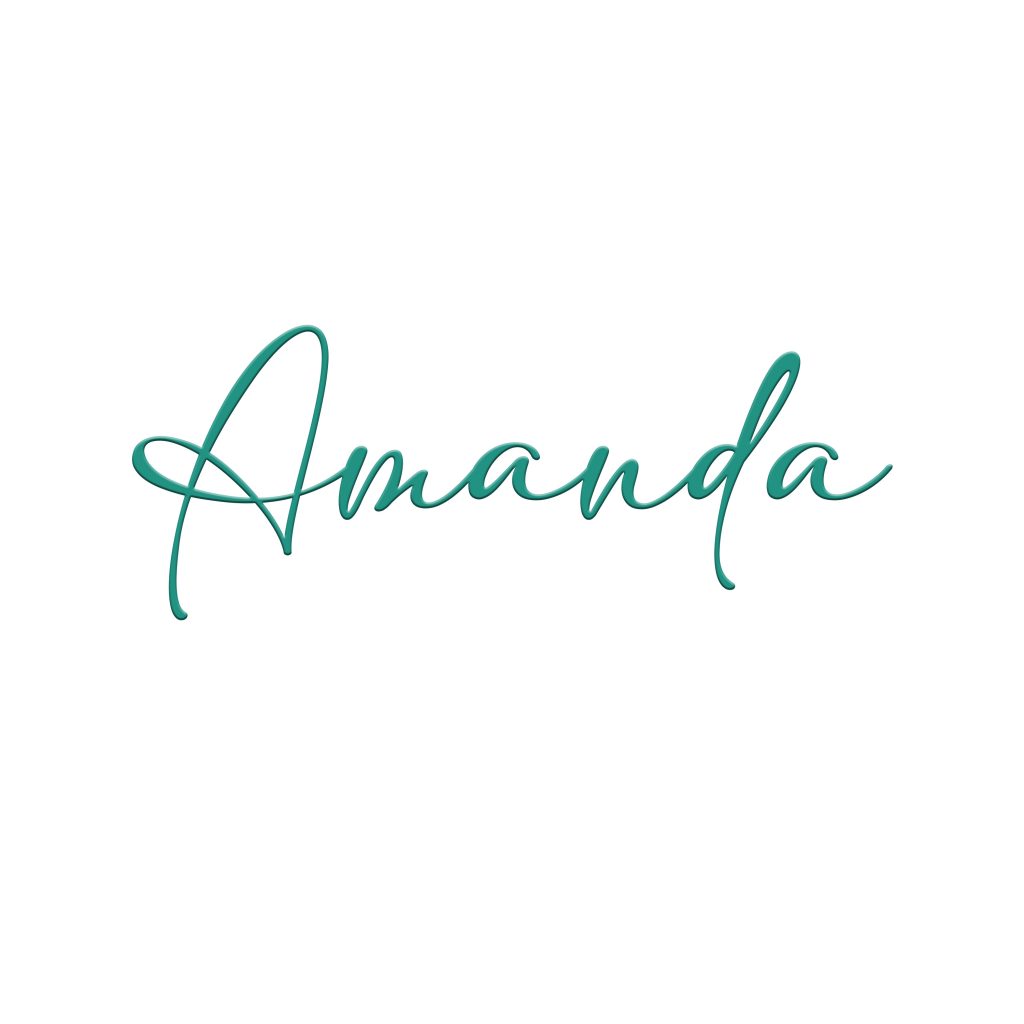 • March 3rd, 2020 •
Copyright ©  Devon Shanor Photography | All rights reserved
Most newborn sessions I photograph while my little client is sleeping and dreaming! But little Jaylin had no desire to sleep for me! Two breastfeeding sessions, a heating pad, white noise and lots of cuddles and she STILL wouldn't give in to the sandman. So, we went with it and we did an entire session with those beautiful wide eyes open!
She really is an "old soul" as those eyes say so much. She looks so much older than her 12 days. She was happy as long as I kept her wrapped and snug.
Check out some of my favorites from the alert and beautiful little Jaylin.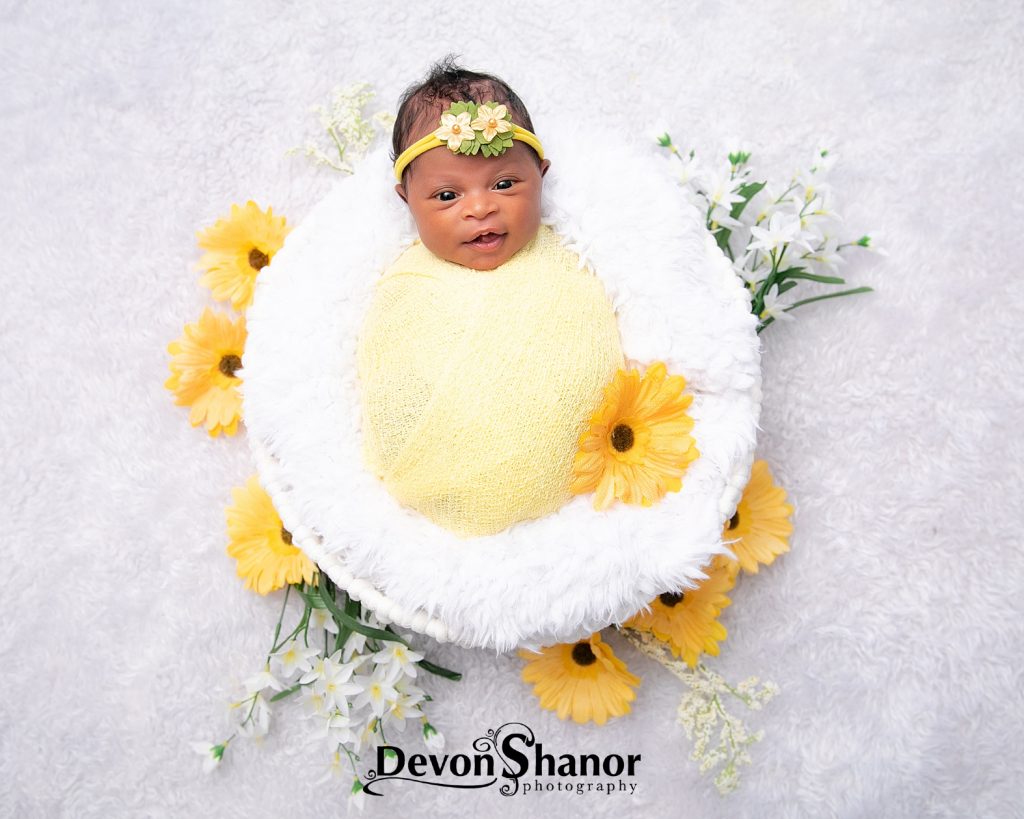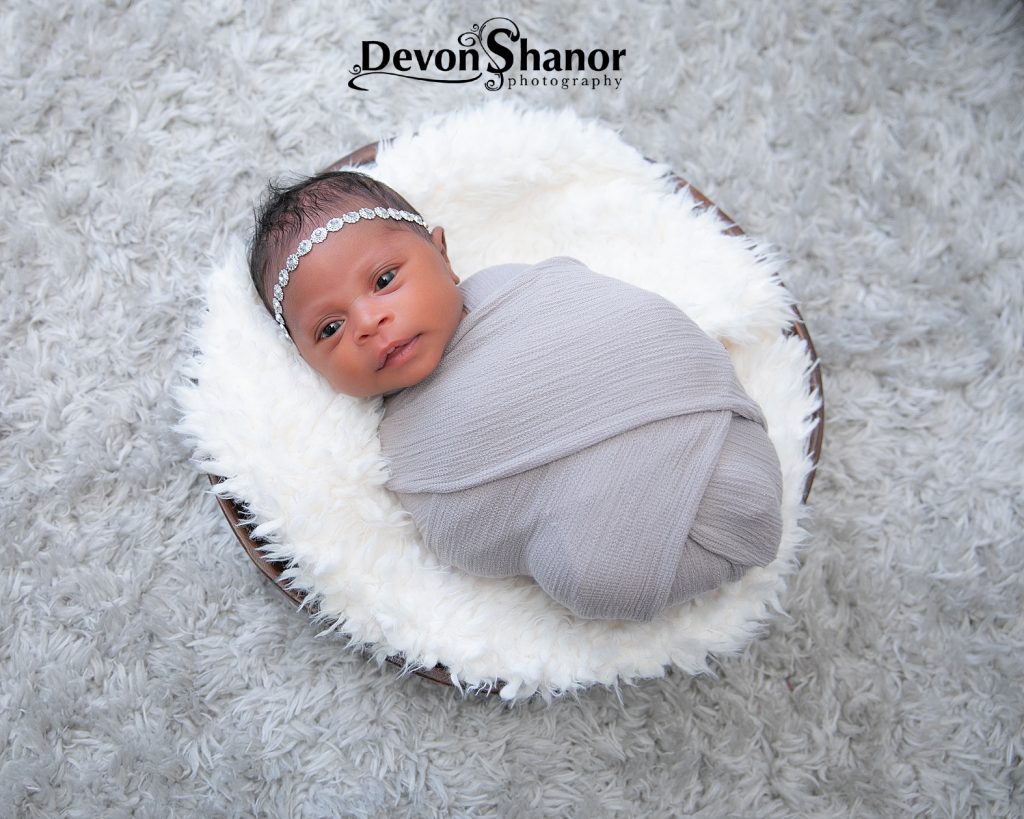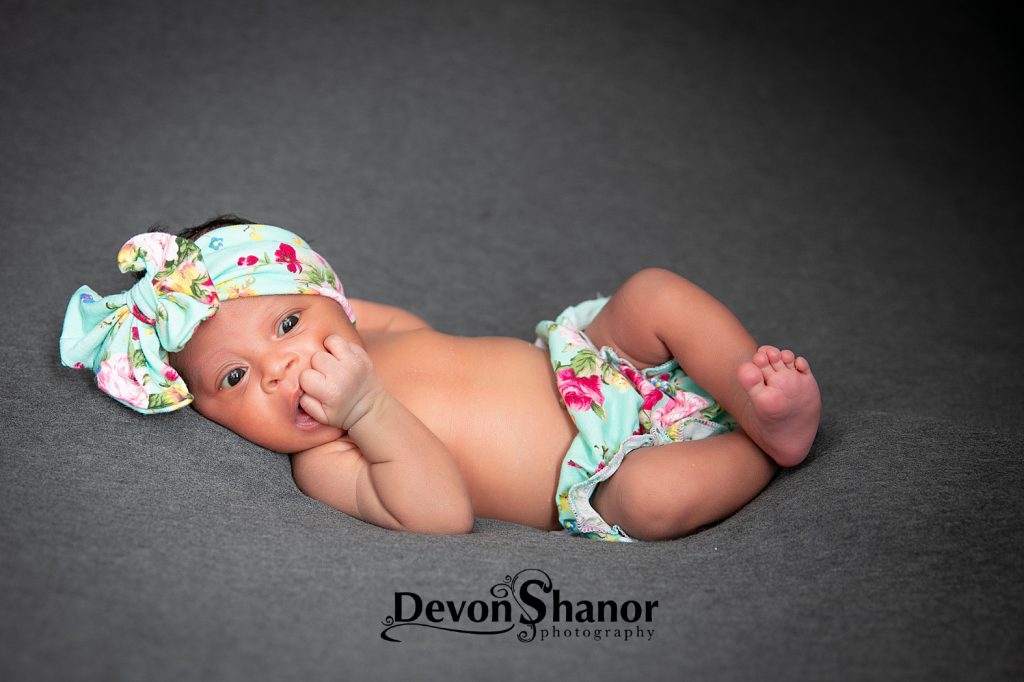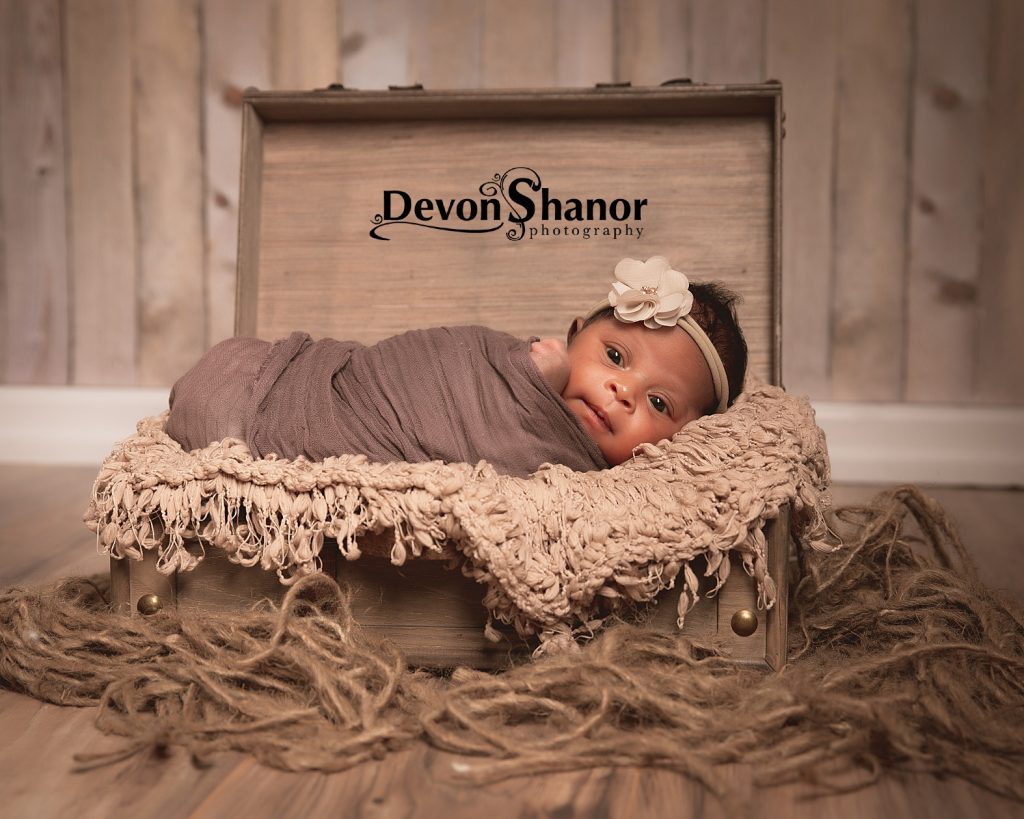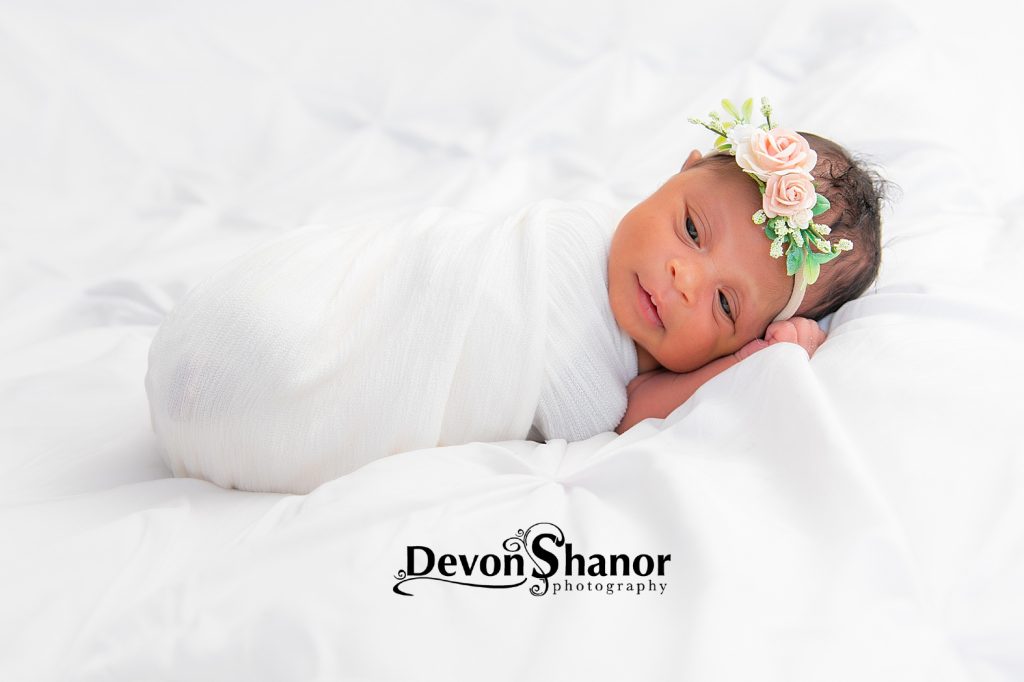 I can't wait to photograph this little princess as she grows up. I'm late blogging this so she is already over 3 months old!!! So many changes in such a short time. Can't wait for her one year portraits next fall!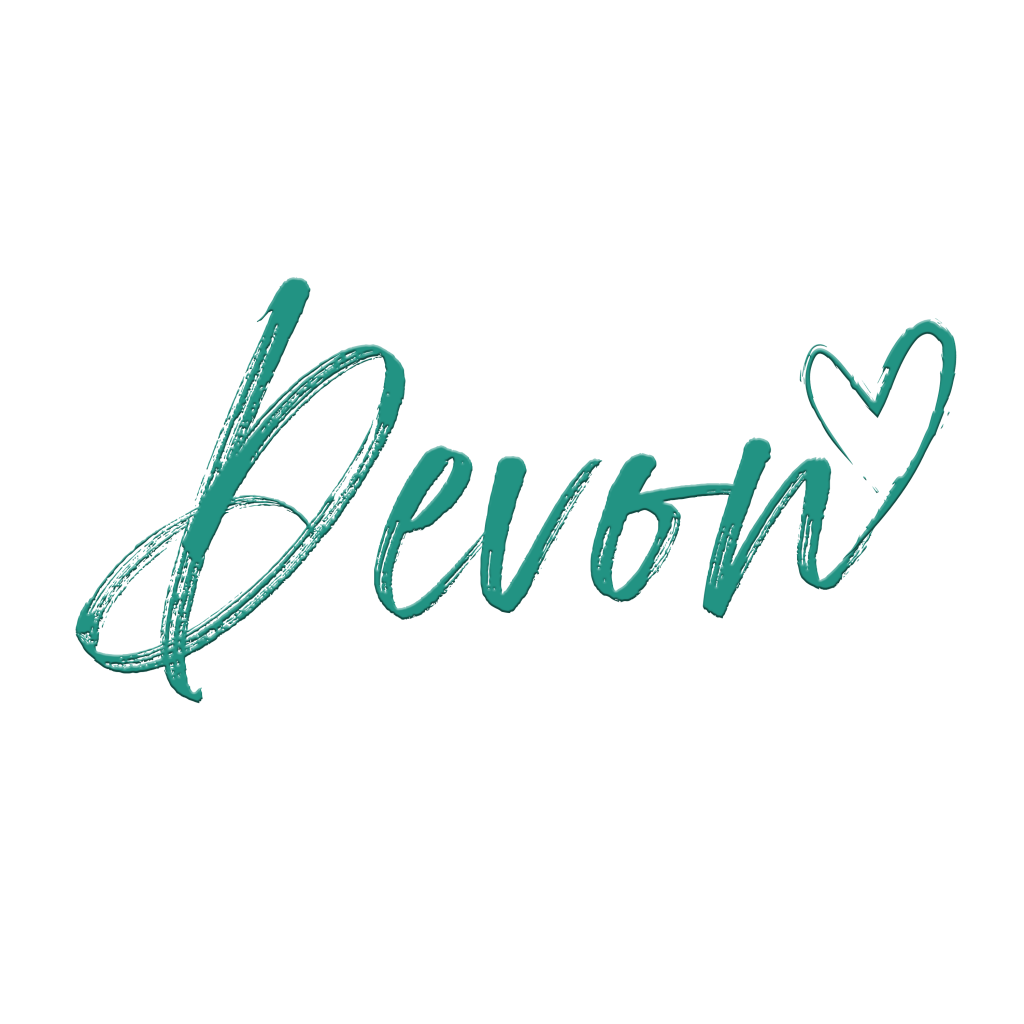 • October 29th, 2019 •
Copyright ©  Devon Shanor Photography | All rights reserved
Alyssa is turning one!! She laughed and smiled for the camera because she loved the fuzzy texture of my fur carpets! We captured lots of big moments during her first year session, she stood by herself and she started crawling THAT DAY so we got some adorable belly crawling!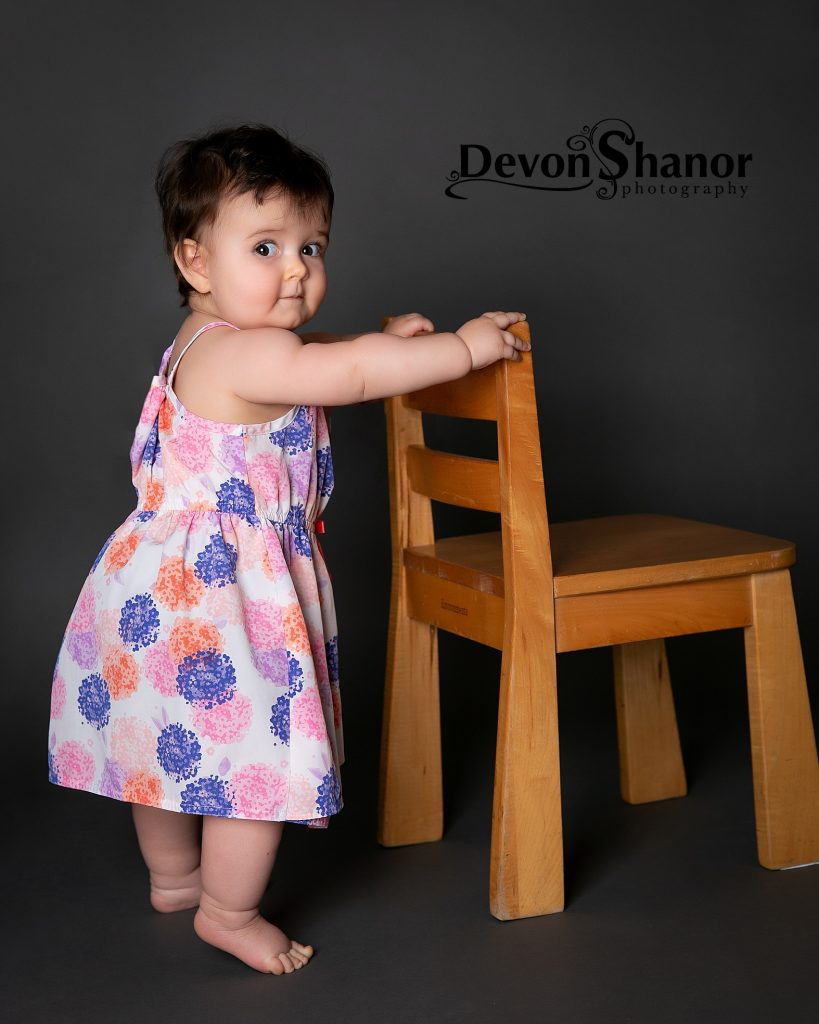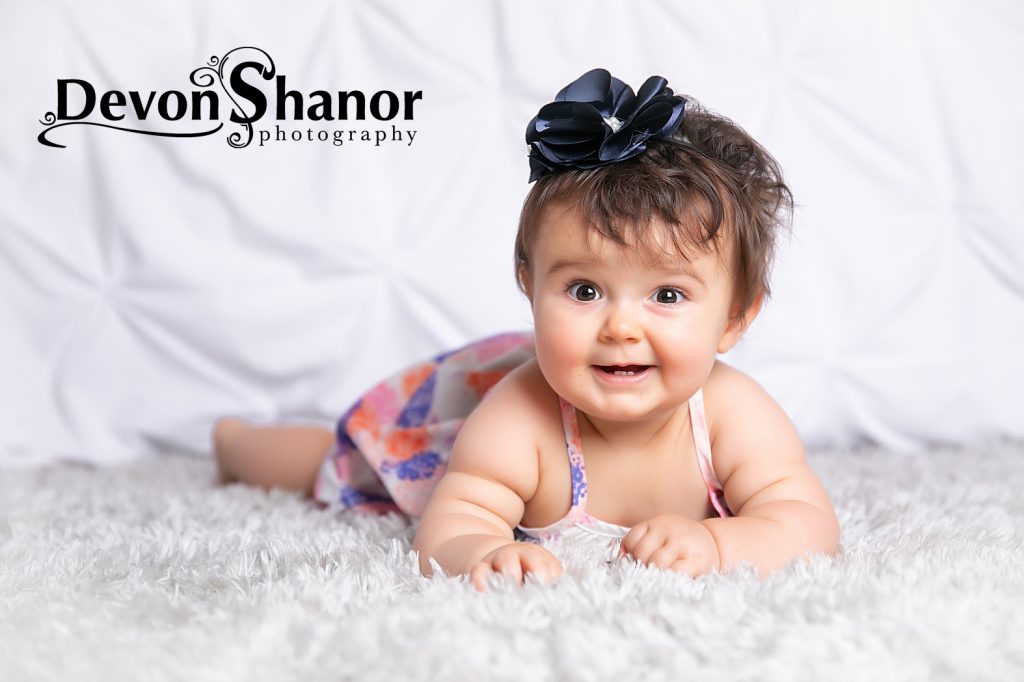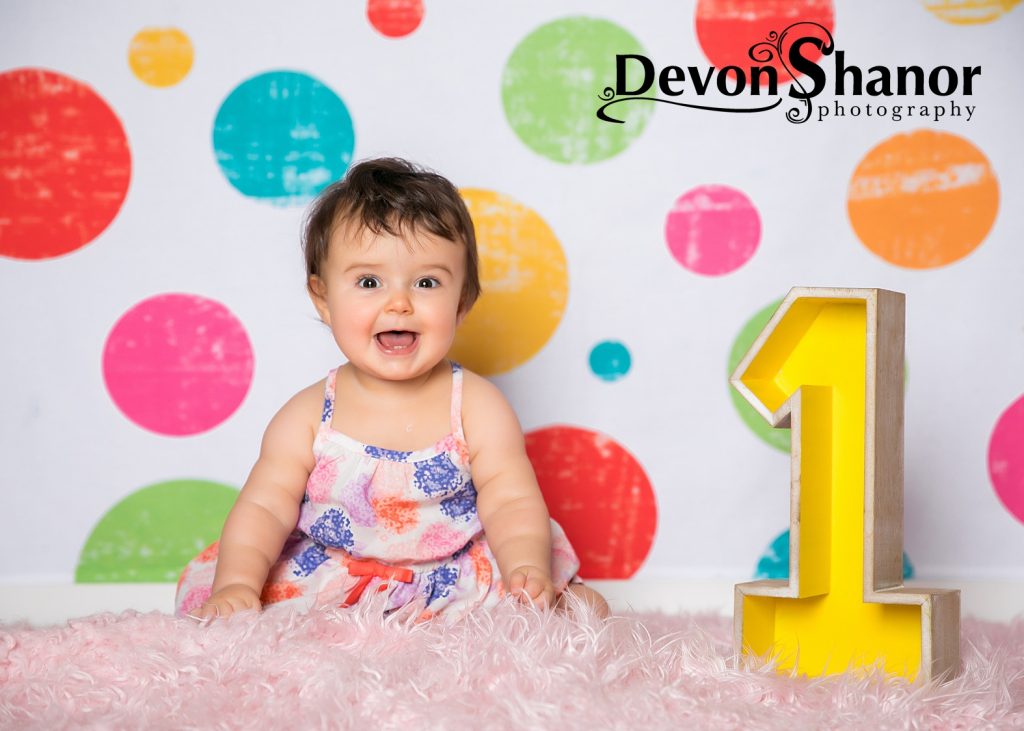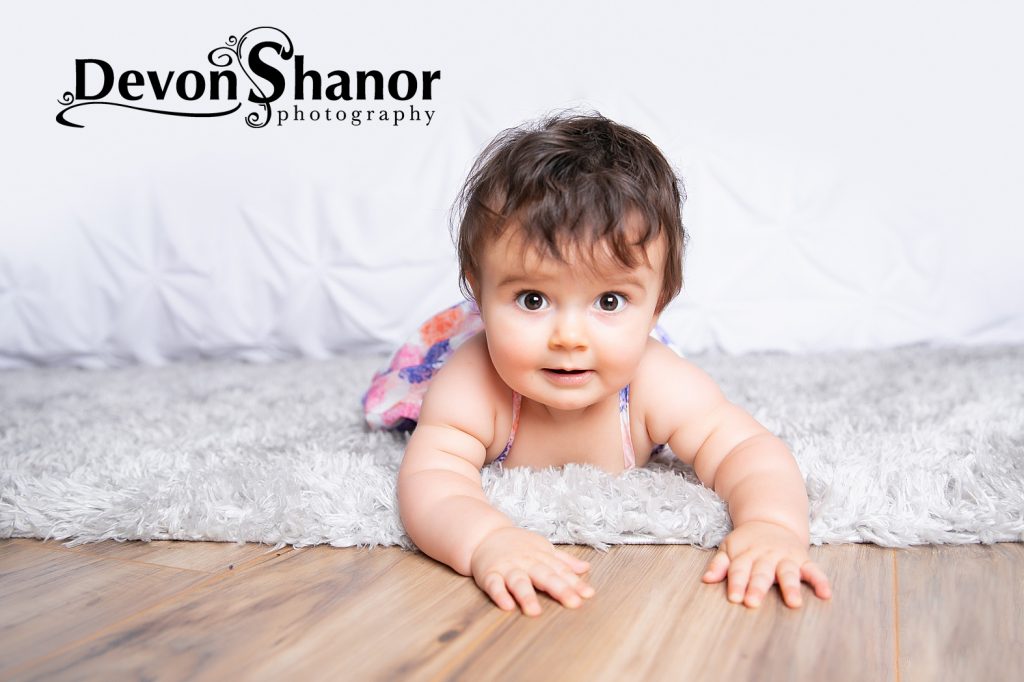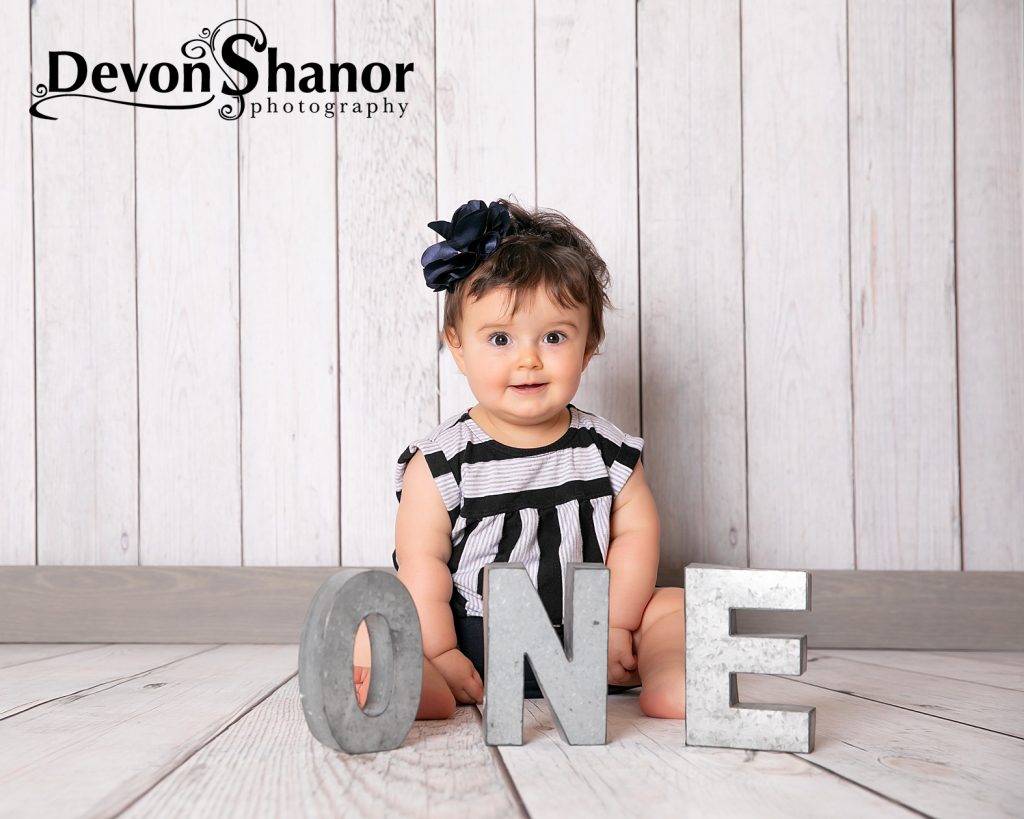 For most little ones, the cake smash is a fun treat and tasting the sugary goodness that is icing and cake is a highlight! However, little Alyssa wasn't having it, she gagged when she first tasted all that sugar! So, we enjoyed playing in the icing more than eating it!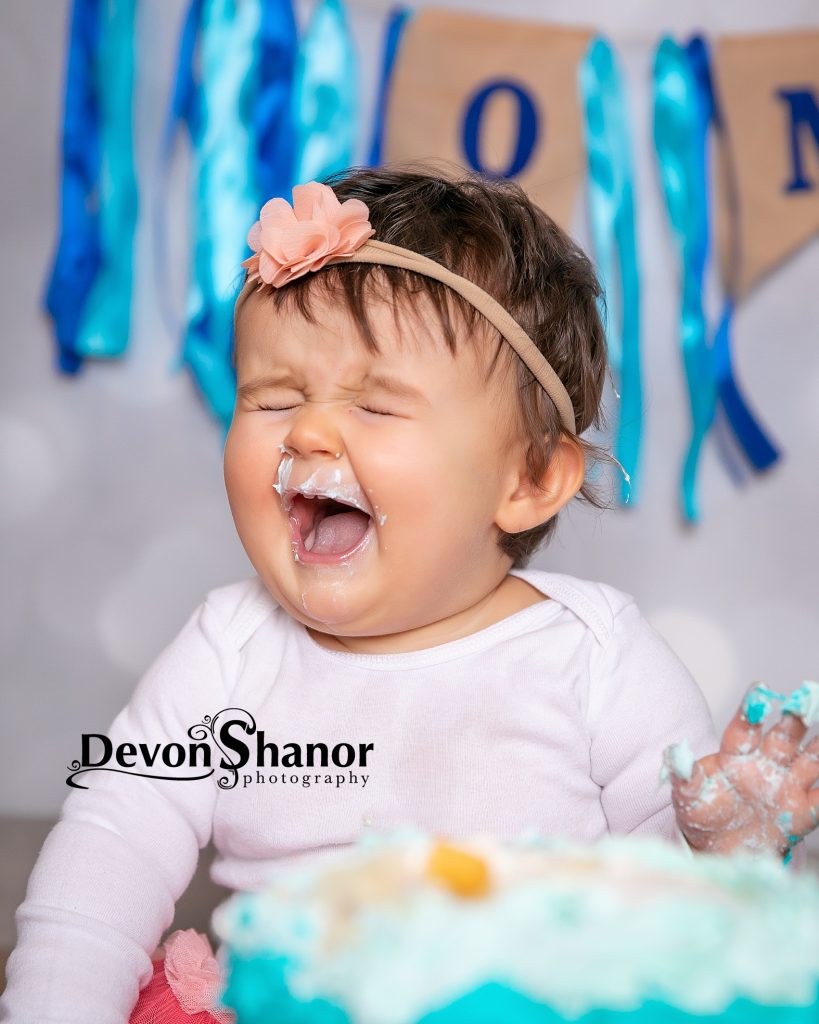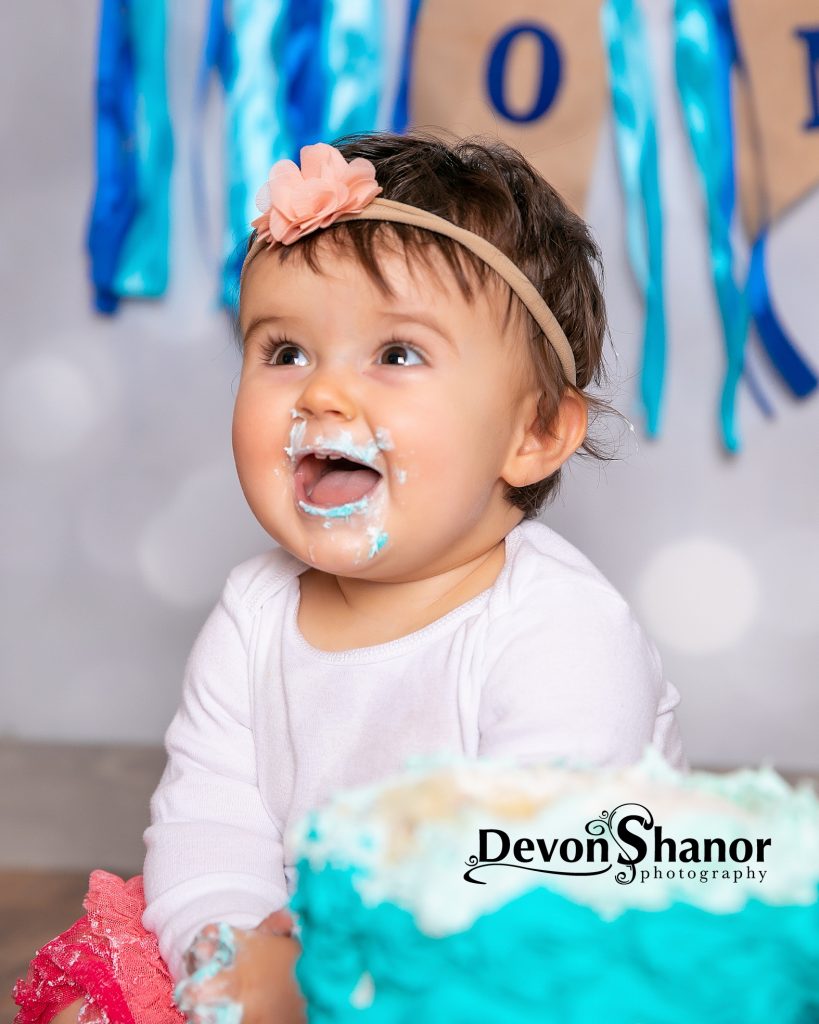 Thanks Wilda family for trusting me again with your little girl. Year one down, I hope the next ones are as exciting and fun as this one was!!