• July 29th, 2020 •
Copyright ©  Devon Shanor Photography | All rights reserved
Back in March, when my business was essentially mandated to close because of Covid-19, I called my accountant to go over options for my business. I had some business savings and was wanting her advice on what to do when it and if it ran out. Her advice scared the poo out of me! "We don't know what the future holds, this could go on for quite awhile… we need to prepare as if you will not make another dollar for the rest of the year." Wait what… WHAT? Can you repeat that????
I was not expecting my doors to be possibly shut for the whole year!!! Together, over the next few weeks, we formed a plan that would BARELY allow me to keep my doors open if the quarantine lasted more than a few months. For the first time ever, in 10 years of business, I had to consider a business loan, something I was very unhappy to even consider.
So… we shut down completely for about 2 months. And when I was allowed to reopen. I thought we'd have a slow and long rebuilding period. I was WRONG!!!!
I have the BEST clients! There was no "slow" rebuilding but a huge MOMENTUM of business! I photographed more high school seniors in late May- July than I did all year. And now, that business loan is not even a thought.
We've made some changes to adapt. For one, zoom consultations are now popular ways to plan your sessions with me. It's different and I miss the face to face, but it's easier for people to schedule and helps keeps us all safe. I also, haven't opened the studio up full time yet, still being very cautious about who gets to visit the studio to help keep it clean and germ free for my newborn clients. I only RECENTLY started accepting newborns again and wearing a mask is no fun, but I make it work! (Good thing we can't hug because I'm a sweaty mess when we finish!) Cleaning and lysol happen regularly now, practically before the door shuts when you leave!
Anyway- this blog is really just to say thank you.
I was so worried when my accountant gave me the above advice. I LOVE what I do and I simply couldn't imagine waiting a whole year to be able to do it again. I was worried about my business. But God, faith, good planning and AMAZING clients all proved I had nothing to worry about. THANK YOU for sticking with me. THANK YOU for referring me to your friends. THANK YOU for supporting small business. THANK YOU for sharing and commenting on my posts. THANK YOU for booking your sessions. THANK YOU for purchasing gift certificates. THANK YOU, THANK YOU, THANK YOU for helping me keep my doors open!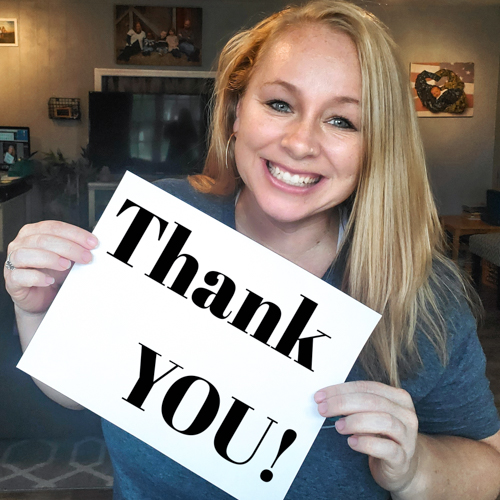 While my end of year profit- loss statement might not look as great as last year, I do know I won't be having to shut my doors. As I thank about that, I actually am wiping away tears. To personally know of so many other business owners that still don't see a light at the end of their tunnel… I am so very overwhelmed and grateful. I really do have the very best clients and I am eternally grateful to have your support.